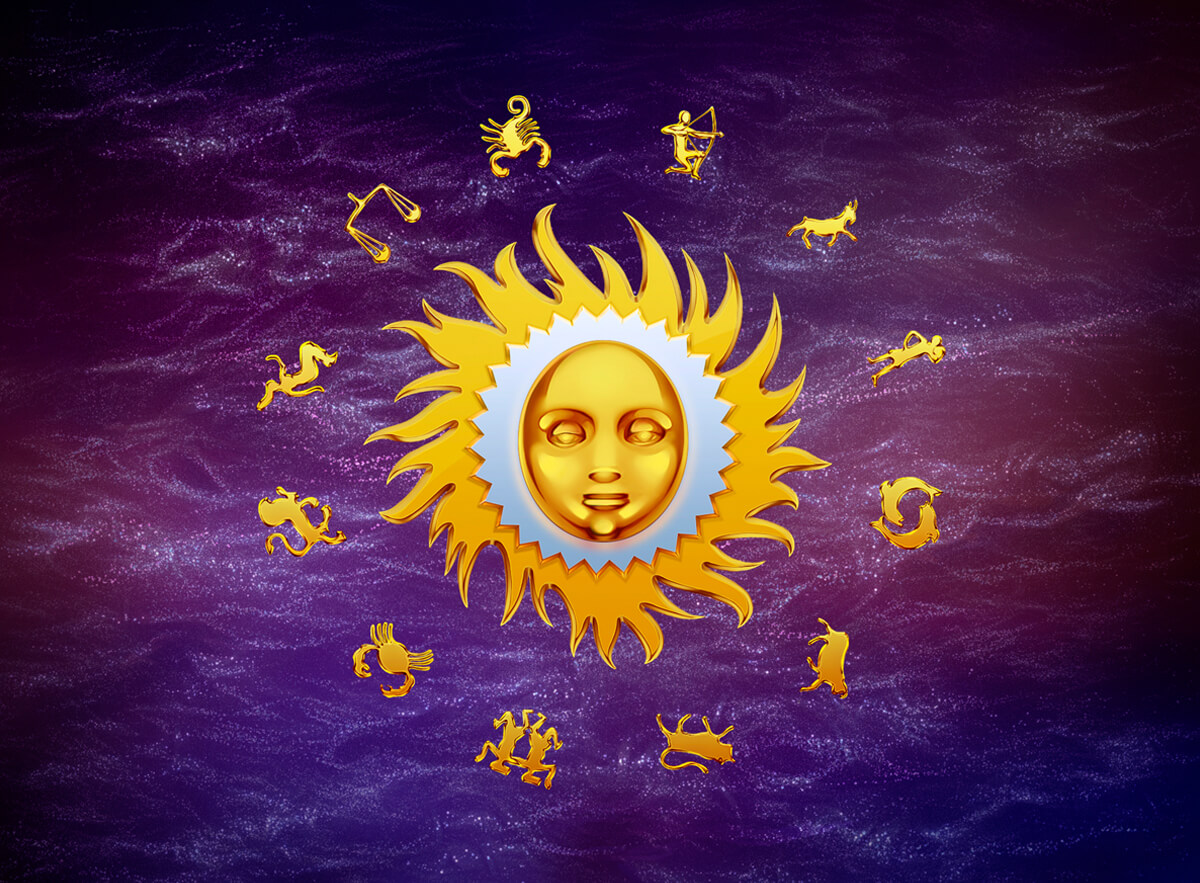 Are you fascinated by astrology and have an unquenchable desire to knowledge and the mysteries of the unknown depths of space?
We have tried to convey the mood and a state of each symbol, what were created especially for the game slot machine "Zodiac", one of the best social slots. What secrets keeps the infinite universe, how many billions of stars flashed by the brightest light before going out forever, if there is life on Mars or in other galaxies? The scientist teams should to ponder a very long time about most of these questions, and we are likely will not know even a small part of the mystery, hidden from prying minds.
Instead of the endless attempts to lift the veil and to shed light on the most interesting questions, we have created a game slot social casino, where we tried to show our vision of how could look a lot of things, that are difficult to explain and present in the moment. You can see the game characters, as some well known planets, precious metals and undiscovered minerals from the deep crystal caves, thematic symbolics, as well as a unique interpretation of zodiac signs. Each graphic element has been created in order to make a good impression and cause a genuine interest to so wonderful science as astrology, as well as to expand usual knowledge about game slot machines. Enjoy!


Sketch
Here you can see preliminary sketch version of the game reels for the slot machine, on which there are all zodiacal constellations.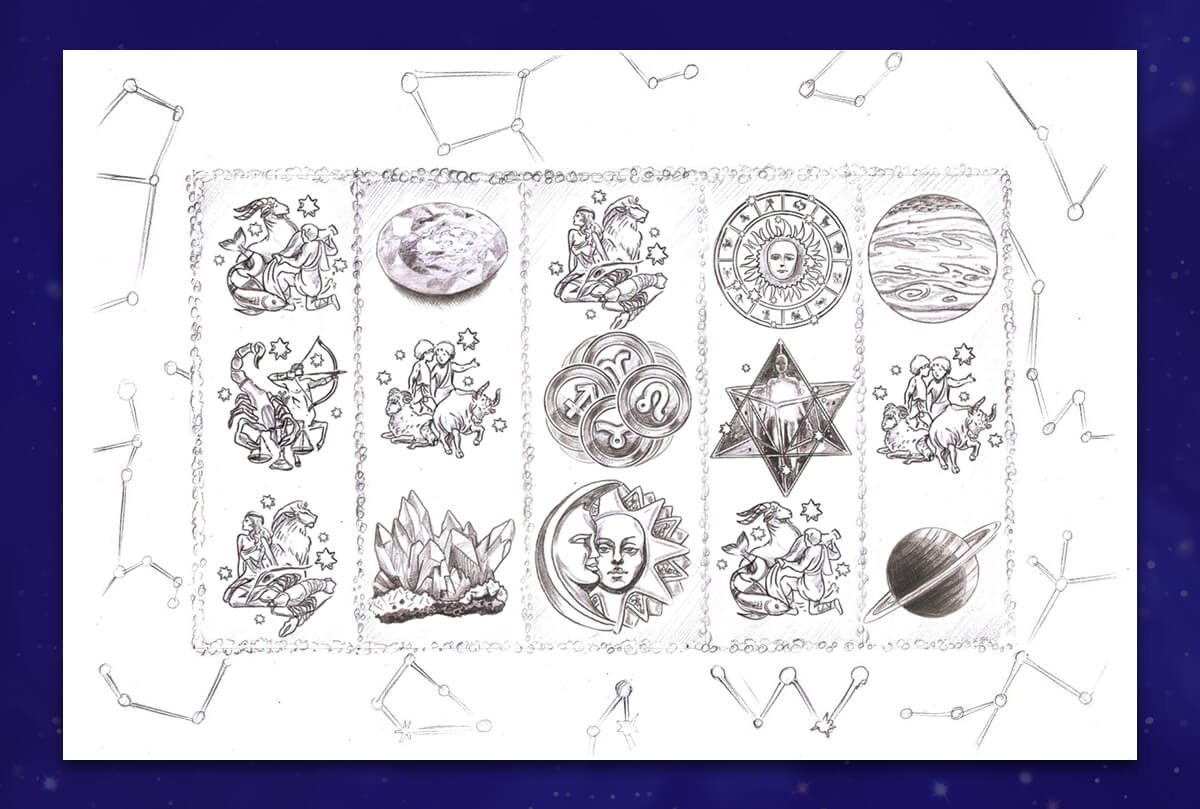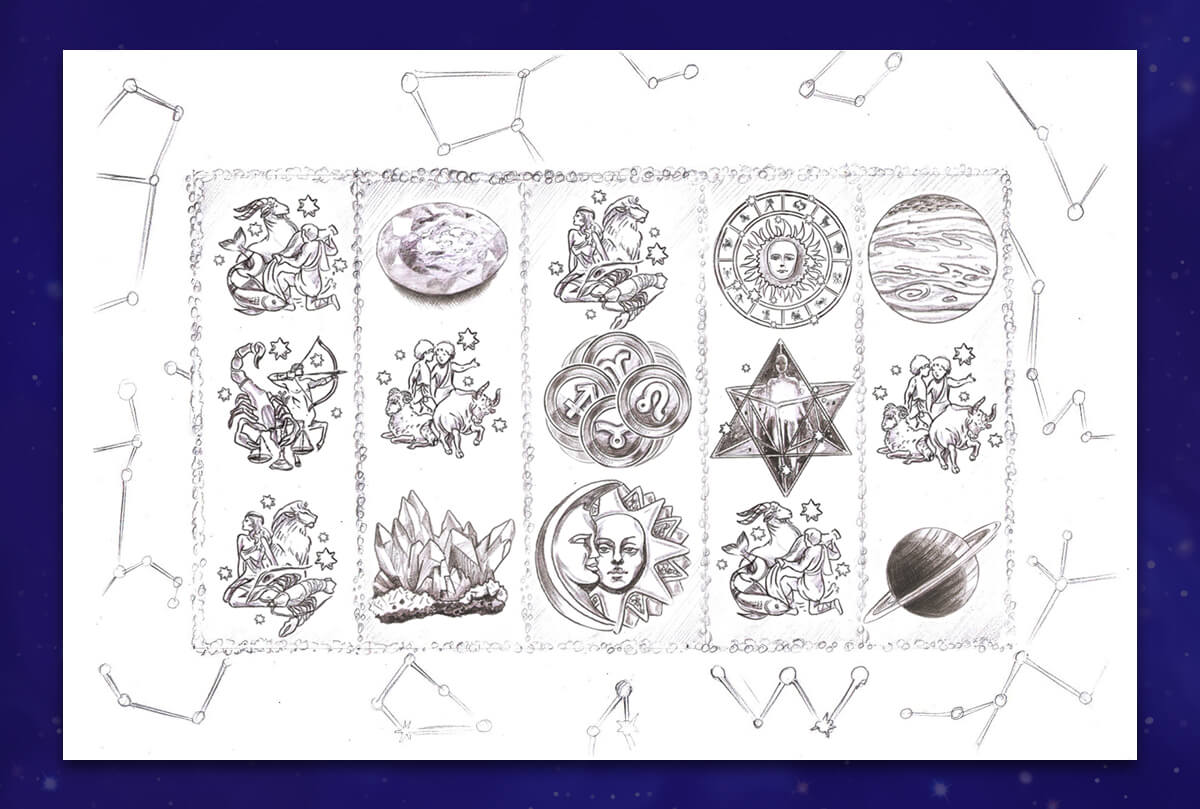 Game screen
Here you can see the final game screen of the slot machine, on which there are all zodiacal constellations.
You can also see other game elements, which will complement your game.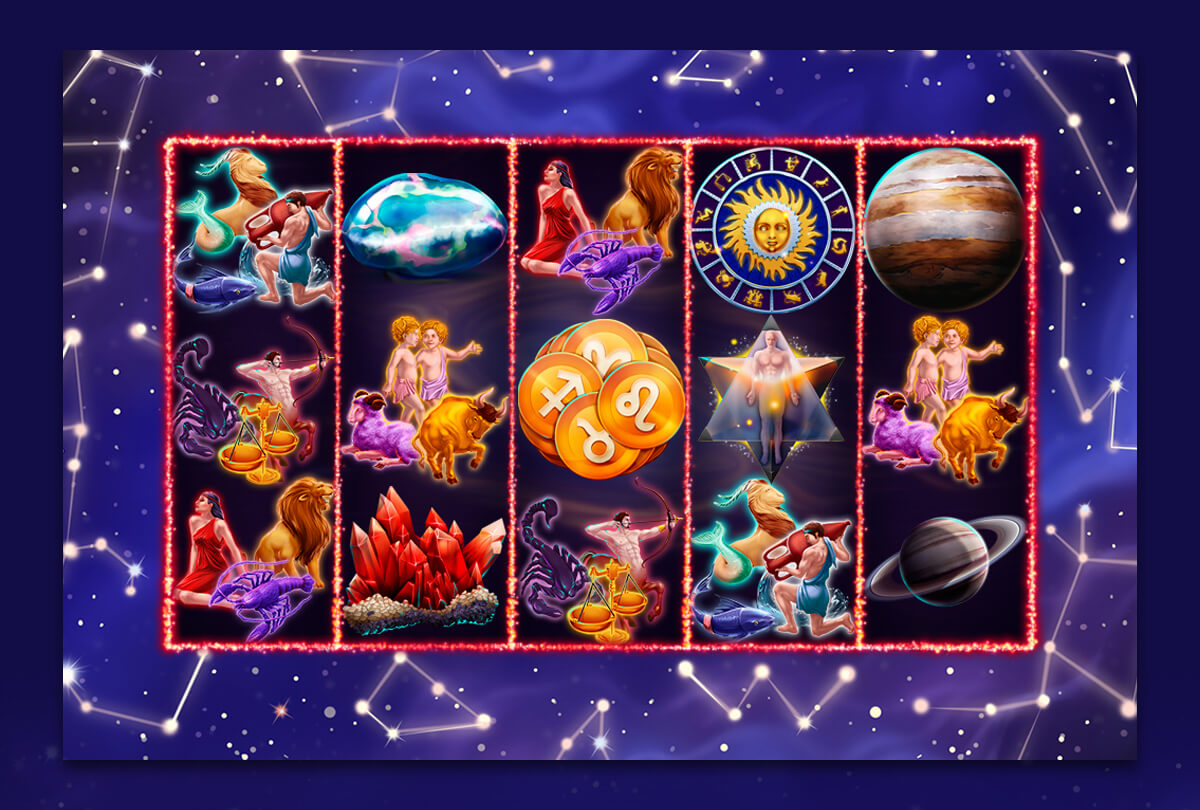 Here you can see animations of High symbols for the slot machine.
| | | | |
| --- | --- | --- | --- |
| Wild – Zodiac Wheel | Jackpot – Star & Human | Bonus – Sun and Moon | Scatter – Roman astrology signs |
Sketches
Development of preliminary sketches of gaming symbols for the slot machine.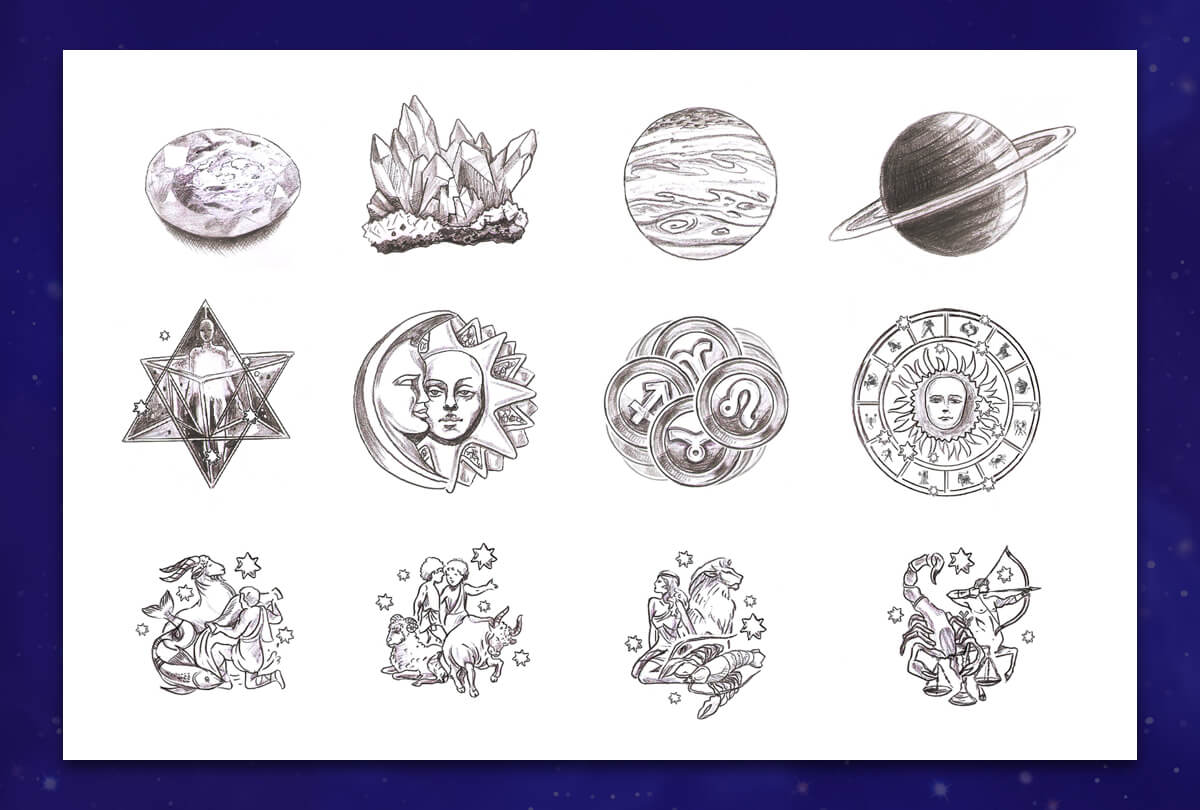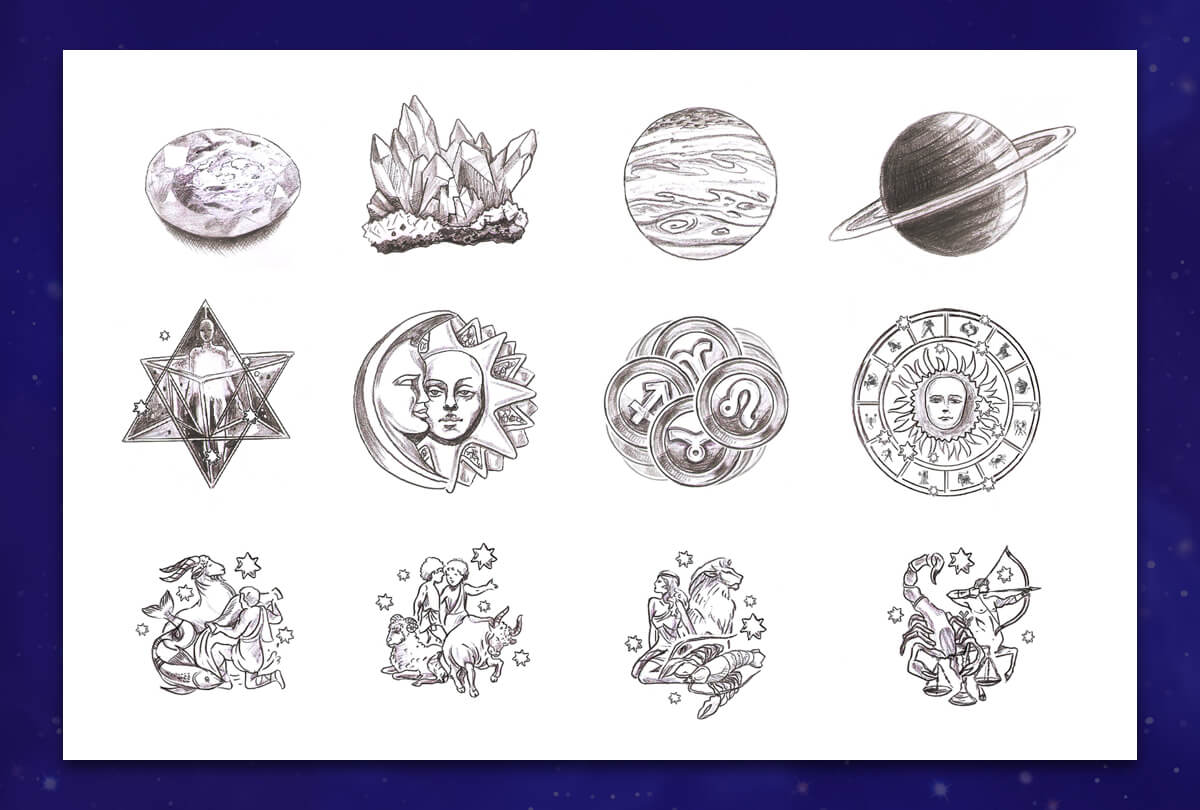 Here you can see animations of Special symbols for the slot machine.
| | | | |
| --- | --- | --- | --- |
| Special symbol – 3 in 1 | Special symbol – 3 in 1 | Special symbol – 3 in 1 | Special symbol – 3 in 1 |
Game symbols
Graphic design of the final versions of game symbols.
Rich colors and high details animates every game symbol and even further immerses you into the game.
High symbols
Here you can see the category of high symbols, which includes special Roman astrological signs, zodiac wheel, which includes all the signs, and the cold moon, with scorching sun and the man in the star.

Special symbols
We decided to present you special symbols in the form of living things and people, divided into quarters.
Capricorn, Aquarius, Pisces / / Aries, Taurus, Gemini / / Cancer, Leo, Virgo / / Libra, Scorpio, Sagittarius.

Regular/Standart symbols
Opal opens creative talent in the person, regardless of his lifestyle and profession, protects against adverse effects, the machinations of enemies, and even able to impart the gift of prophecy.
Red crystals endow a sense of great energy and vitality, induce to action. They endow a person by courage in time of danger.
Jupiter in astrology symbolizes: success, wealth, increase of knowledge, philosophy of life and optimism, as well as a system of moral values of society. Jupiter is one of the most favorable planets in the horoscope, it shows the scope of successes and growth.
With Saturn related everything that says "can not" and "should". All laws and rules: the nature, society and the state. It is also a vital structure, fundamentals outlook and principles by which people live.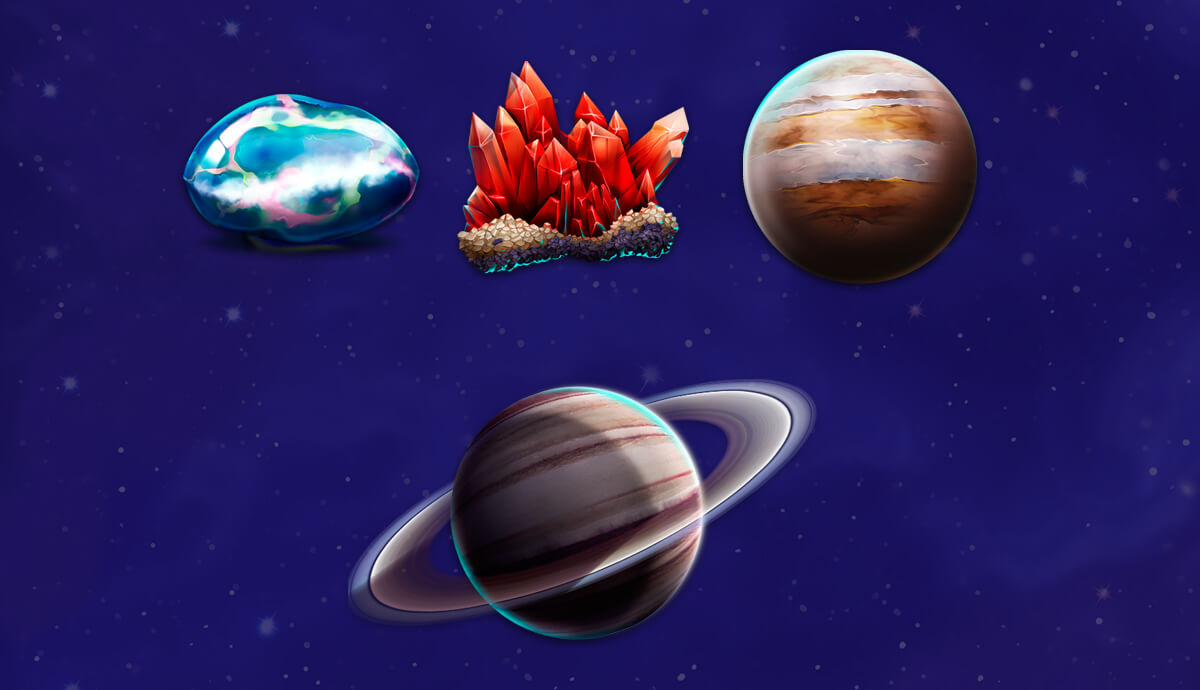 Here you can see animations of Low symbols for the slot machine.
| | | | |
| --- | --- | --- | --- |
| Low symbol – Bloodstone | Low symbol – Saturn | Low symbol – Opal | Low symbol – Jupiter |
Also, If you are interested in our new product, you can purchase it at our store – https://slotopaint.com/product/zodiac/