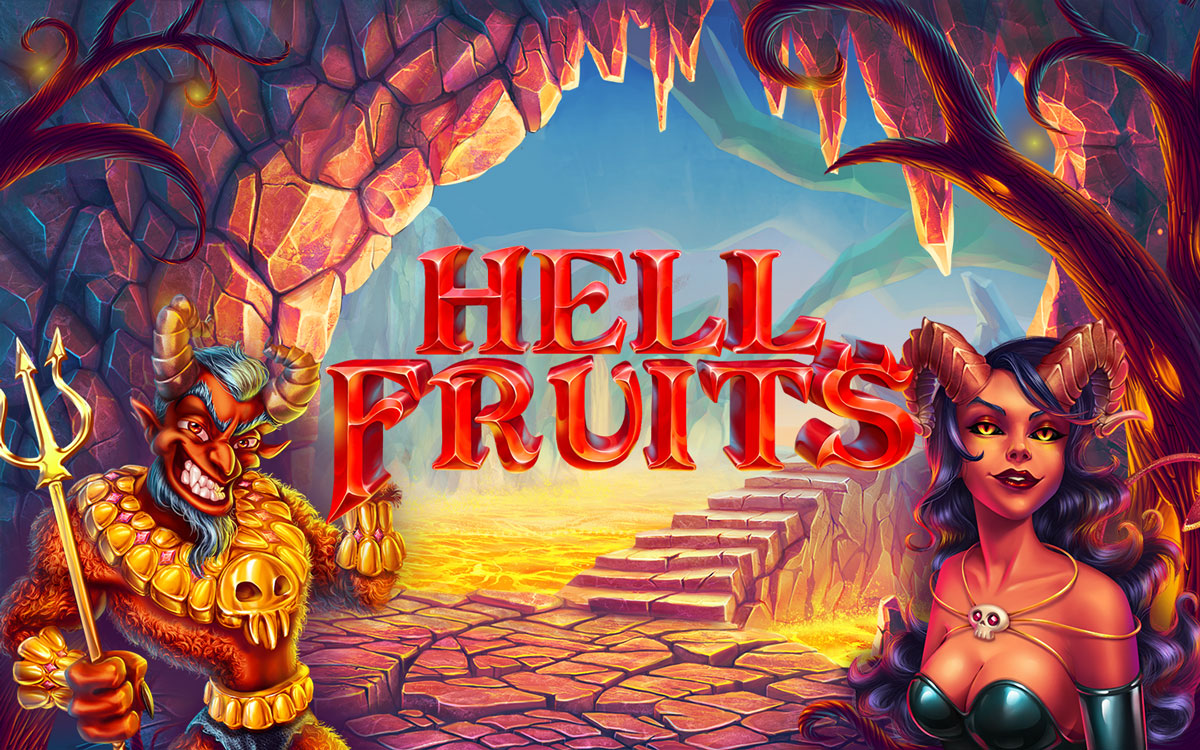 Hell Themed online slot game
If you are a horror lover and tickle your nerves, then this slot is for you. "Hell fruits" slot is unique and created especially for people who are not afraid to overcome the difficulties, that lie ahead. The Forces of Good and Evil meet in one place and oppose each other. Paradise against Hell, angels against demons. Take part in an epic battle, leave your mark on history. Are you for good or are you a sinful gamer who loves to play pranks? Challenge yourself and your capabilities.
On the splash screen of the game, we see the entrance to Hell, the steps leading into the unknown, around the hot melting magma, oak-sorcerers with frightening branches. The Fire Demon and the Devil-Warrior were depicted on different sides of the screen with malicious smirks and burning eyes, they seem to beckon to their side, so we can feel the atmosphere of the Other World in the whole. The main characters are invited to plunge into the "Hell Fruits" slot and try not to burn your hands, try your luck and leave with the treasures. If you are interested in this product, you can purchase it at our store – https://slotopaint.com/product/hell-fruits/.
The game reels are bright and colorful. In the center is our old acquaintance – the Demon of Fire, it's surrounded by: a charming seductress girl (our beautiful Bonus), but be careful, she knows what she is doing and can mislead you with her charm and cunning. Also, a monster – the Wild in a metal cauldron, where he brews and constantly stirring his secret potion (to increase the amount of the win). But that's not all! Here you can see the juiciest fruits: here you can find grilled watermelon and peppery spicy cherries, as well as a wild purple plum, from citrus fruits you can treat yourself to ripe orange and aromatic lemon. And let's move on to dessert – the fire seven, a super bonus for attracting good luck to players.
Below we can see our balance, the button – Max bet; you can also put the game on auto mode and monitor the growing balance and a fiery cauldron called SPIN. Everything is ablaze with fire and sparks, in the best traditions of the other world.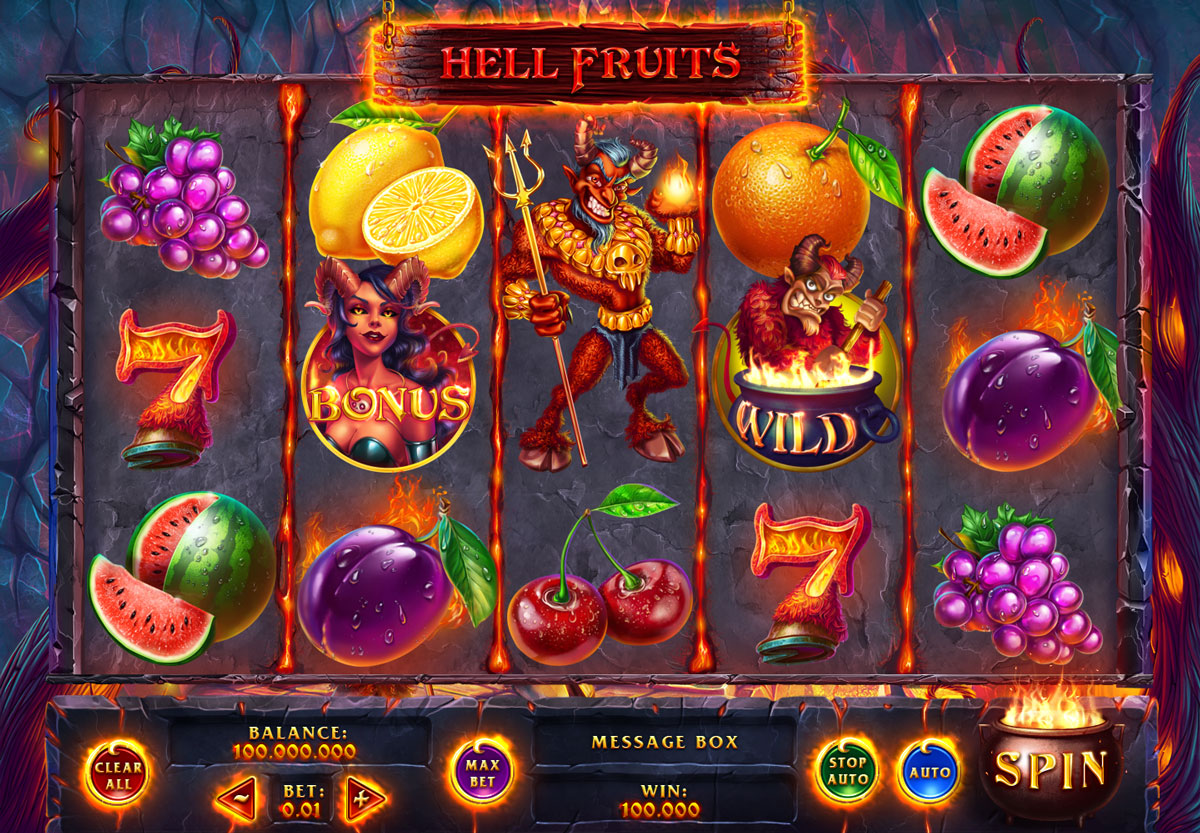 The hero depicted on the background is not the Devil himself? Meet – this is the Fire Demon, has sharp horns and shod hooves, and the same shod tongue (he throws curses even as). From ammunition: a fiery fist, which can be used to throw fireballs that destroy obstacles in its path, a steel Trident, against enemies (they say it took it from Death itself, after which it changed its weapon to a scythe). This Demon knows how to stand up for himself. He's illustrated by a half-human, half-beast with cunning red eyes, wearing a light loincloth, behind which he probably hides his tail. The choice of clothing is very welcome, in Hell both in winter and in summer +50 celsium degrees.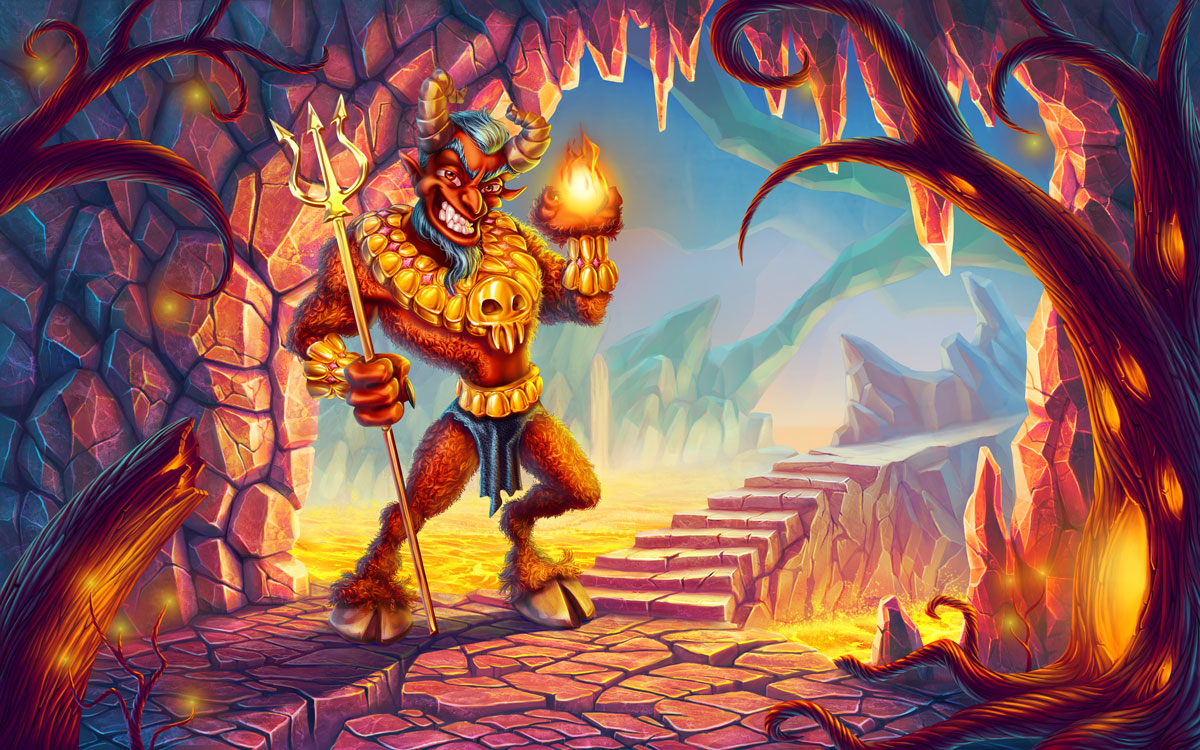 Wild symbol – a monster nicknamed the Wild in a black metal cauldron, with a sharp arrow-tail that can prick you. You can tell from his grin that he is still that imp.
Seven symbol – super-seven, this is a nice bonus for players. The fiery seven is decorated brightly and looks like the hoof of a very rare red unicorn, which will certainly bring good luck to the player.
Bonus symbol – a beautiful creature, a beauty with sparkling eyes like a cat, but with a hellish character. It is depicted as the most beautiful nymph with cute, but insidious horns. Dressed in a steel corset and adorned herself with an unusual necklace.

All symbols are animated, all in sparks, on fire. The devil is constantly stirring his cauldron so that the magic doesn't evaporate in it. The fiery seven moves from bottom to top and lures with its light, the coquette girl makes her eyes and smiles with the most charming smile.
Closer we can see the Fire Demon, as he shows his feints with a hot ball. On animation, you can see him in the manifestations of human emotions, best of all he manages to portray joy and anger.
Regular symbols – juicy, colorful, ripe fruits, decorated very realistically, the hand reaches out to the screen for a tactile sensation.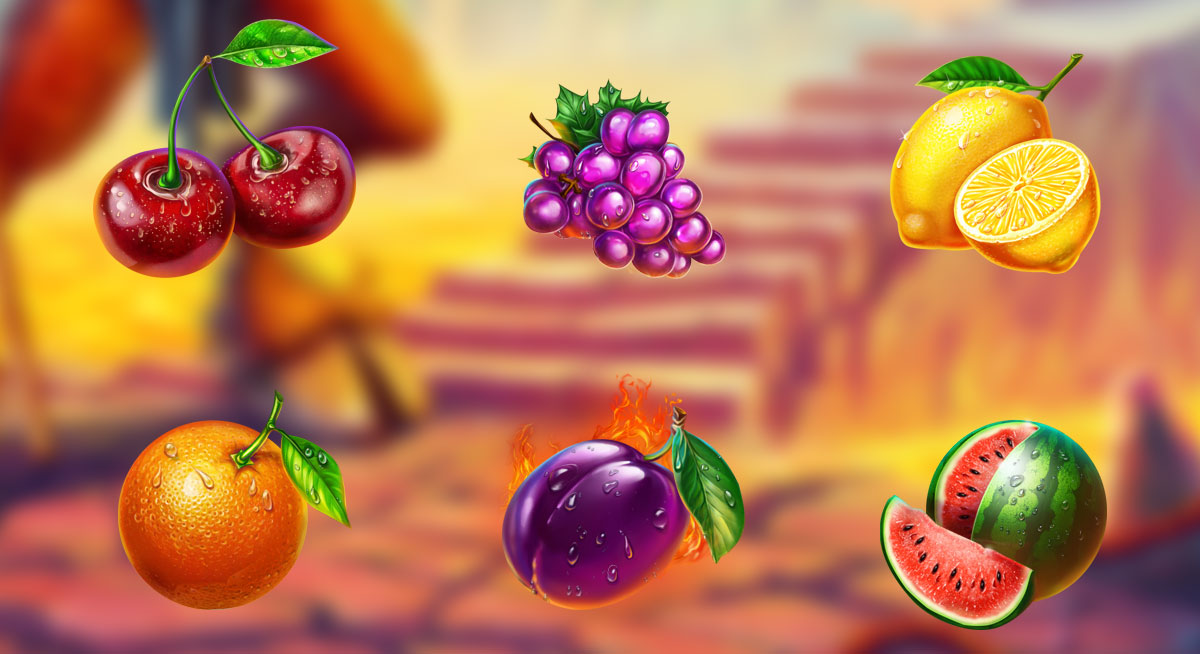 Below we see fruits on fire, for a better feeling of the atmosphere of Hell. Do you love with a crispy crust? Then fry another minute from both sides.
On the next animation, we see the transition screen, which is shown when switching from normal mode to risk game mode.
Gamble game screen. We see red-hot magma, metal chains, in the center a card of a coquette girl, and on both sides a red heavenly and black hellish apples. Nobody knows which apple you like, so you need to try and bet on your intuition. Above we can see the history of the game. Below are footnotes of the words: lose, risk, win. Here we can see the amount of won and feel our victory not only virtually, but also financially. Looking a little below, two buttons are depicted: blue – collect, green – half.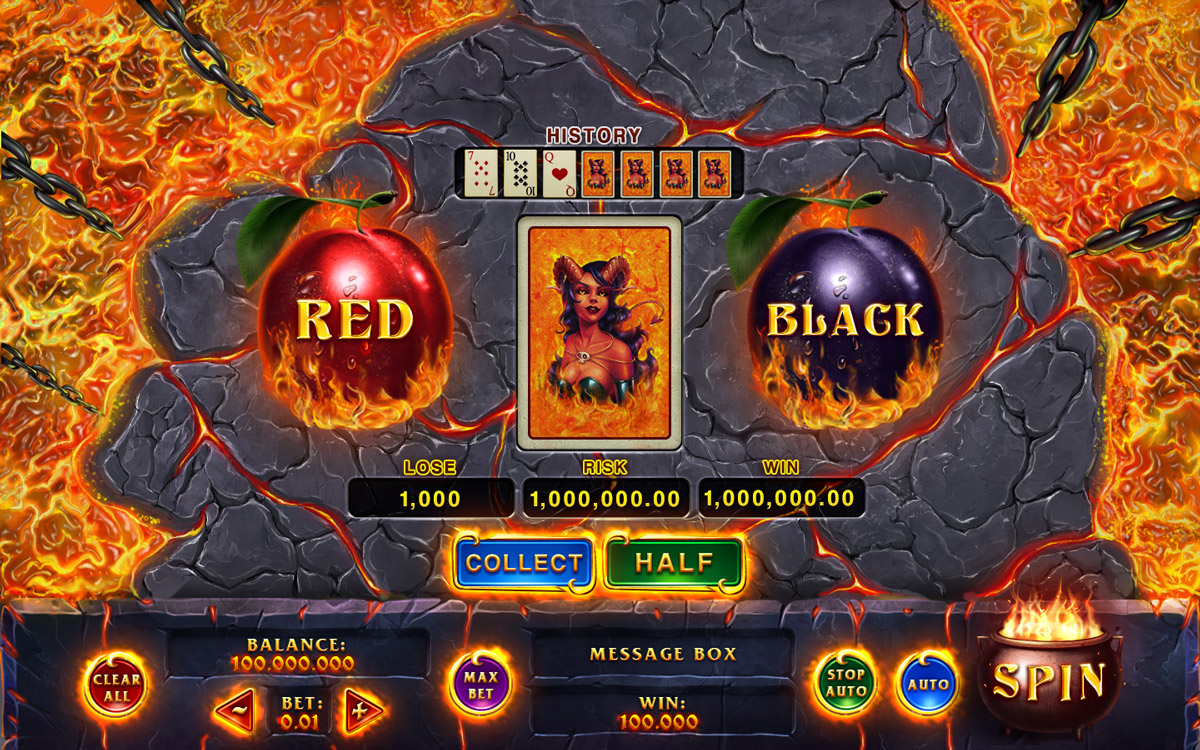 If you win, you will see a fiery cauldron with the inscription Big Win. You are the real lucky one of fate. The cauldron blazes with fire and sparks and congratulates you on your victory.
The paytable looks like a large hardened iron stand. Here you can find information about high symbols. Here we can also consider all the hellish attributes of the game and get acquainted with additional information.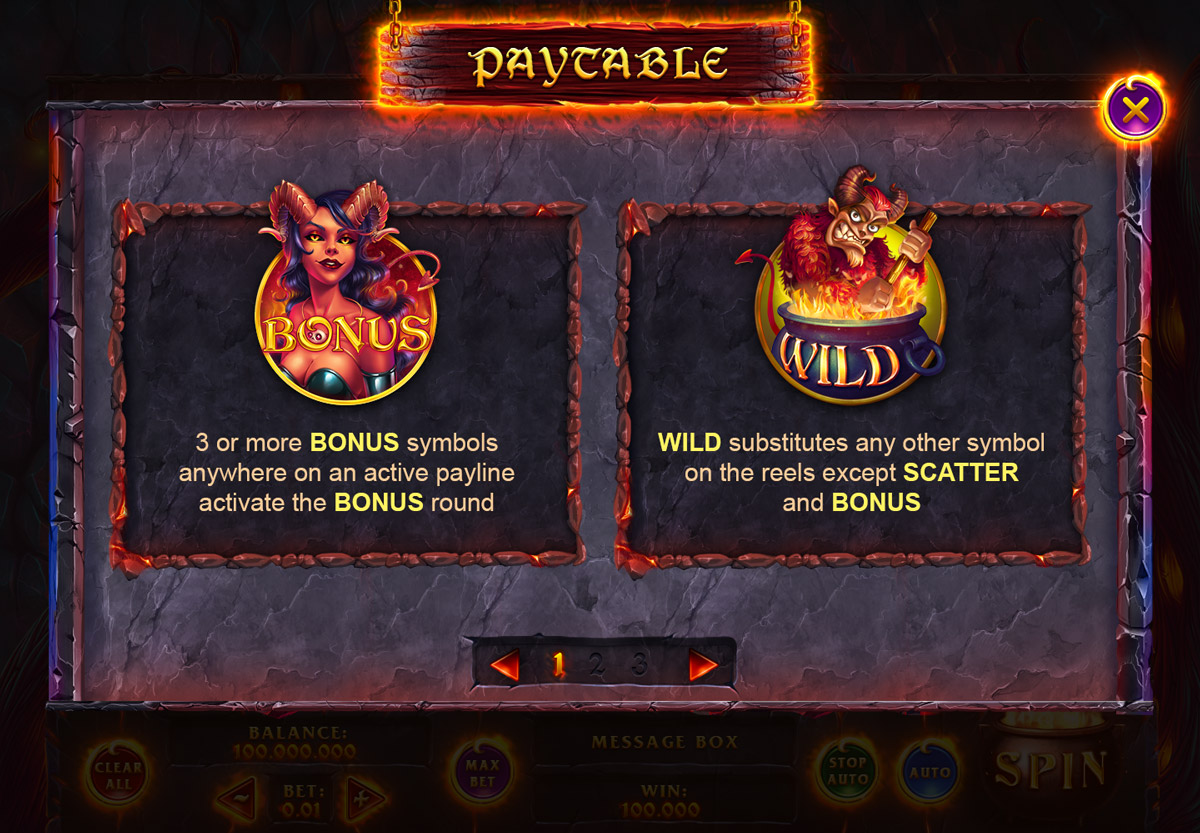 Paytables for Regular symbols are designed in the same style as the pay table for the High symbols, and you can calculate your winnings.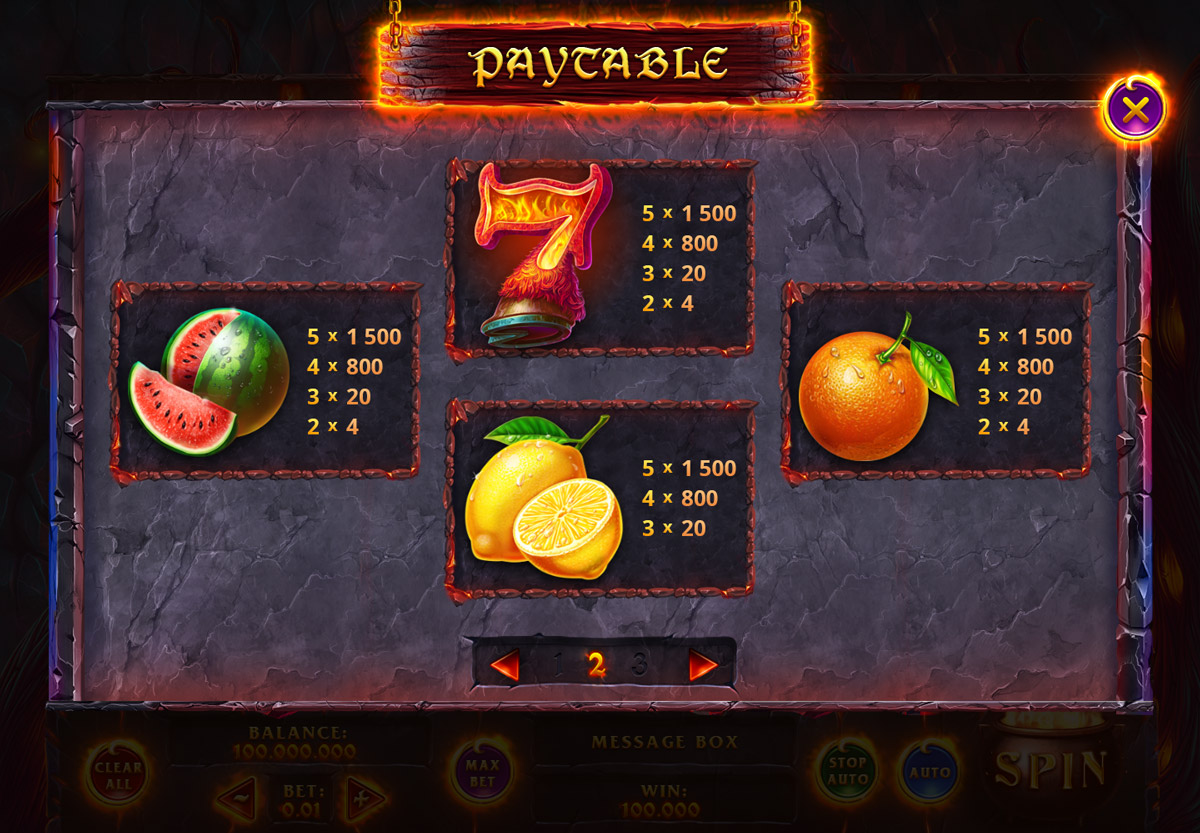 The greeting screens for information about bonus games and free spins are designed in the same style.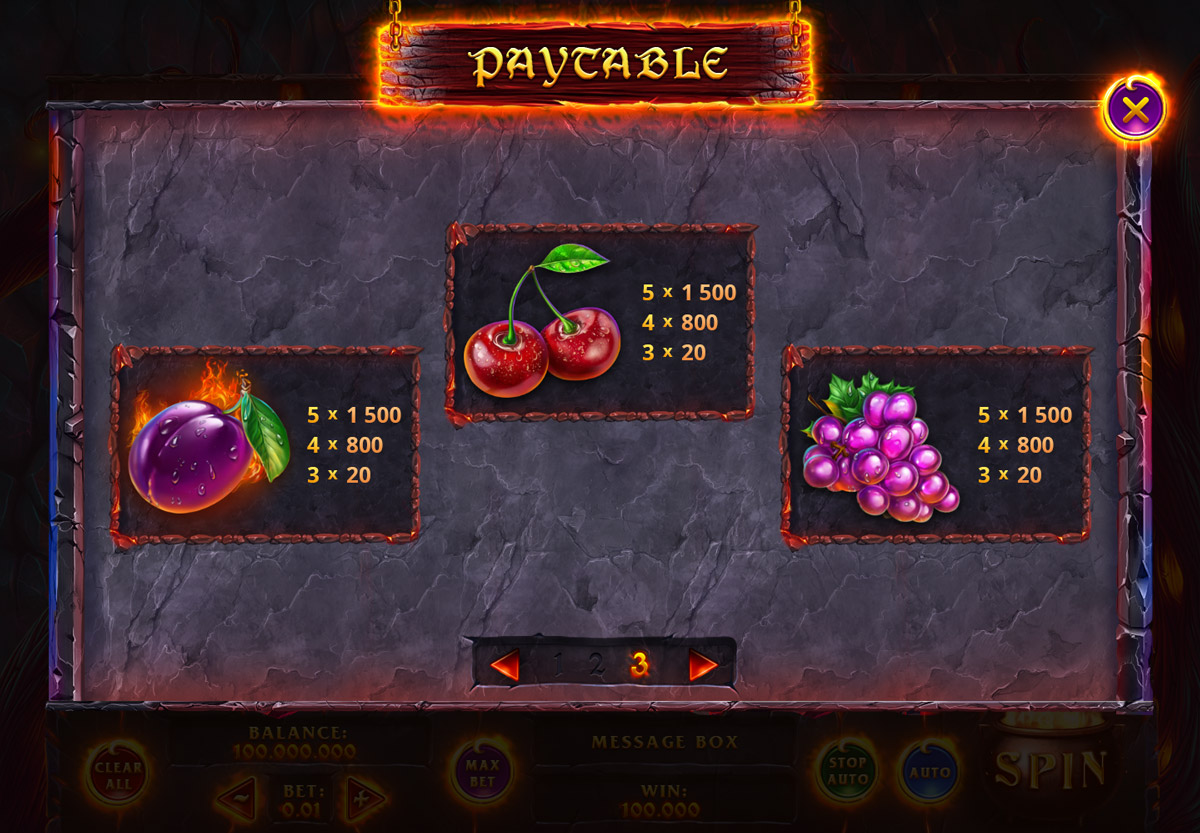 All the inscriptions are highlighted in golden letters on the fire boards, the fonts are stylized according to the themes and style of hell. All animations and pictures also look spectacular and tidy to the eye.