Flower Themed online slot machine
With proper care, flowers will decorate your home for a very long time, filling it with freshness and joy, purifying the air and saturating it with oxygen. They bring a piece of nature, the contact with which residents of megacities are so lacking. They will delight you for a long time, and their leaves and petals will remain fresh for a long time and will not fall off after a couple of hours. Bring some romance, freshness and pleasure to your everyday life by playing in the "Flower Gallery" slot machine. Everyone loves flowers. The cat who greets you with a friendly smile will introduce you to exotic plants. Give each of them a little attention and care, then they will give you generous payments. Symbols and functional elements of the interface are drawn in a very high quality and endowed with bright colors.All this, framed by a wooden frame decorated with "Flower Gallery" inscription on top, looks very picturesque, instantly uplifting. The game is controlled with the help of the buttons, made in the form of flower pots with young green shoots of flowers. The watering can plays the role of the Spin button, spinning the reels. The game takes place on 5 reels with 3 rows of symbols. In the creation of prize combinations 12 symbols involved. Also, if you are interested in our new product, you can purchase it at our store – https://slotopaint.com/product/flower-gallery/: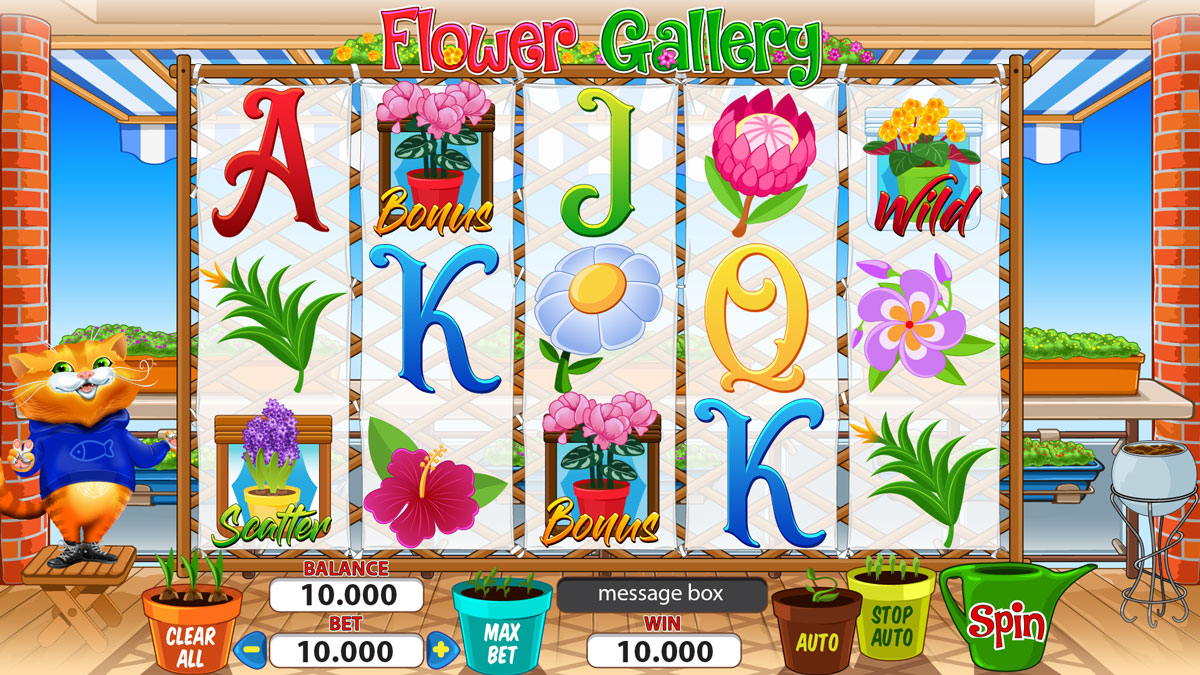 The main plot action takes place in a flower shop with a clear sky on the background, so most of the screen is made in light blue and green colors. The overall picture looks rosy and positive.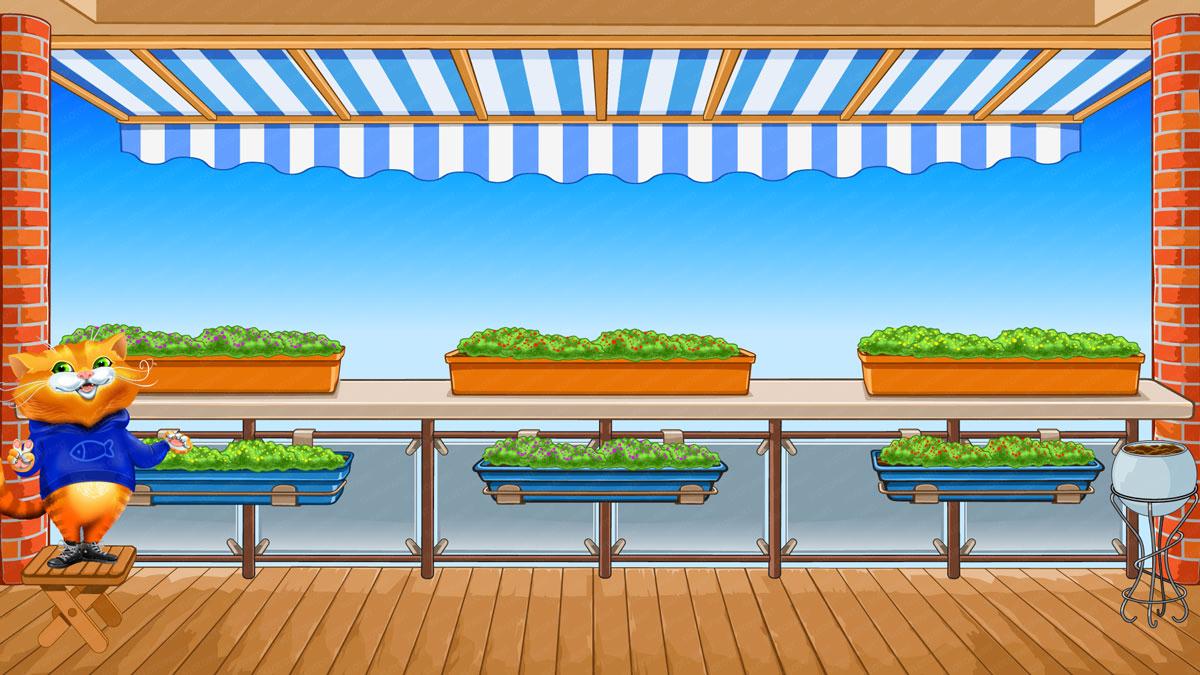 The role of the lowest paid symbols, according to tradition, went to card denominations from jack to ace. They are also made in different colors and essentially fulfill the same role as thematic symbols. Each icon has a certain coefficient, according to which players will receive cash rewards. All thematic symbols are qualitatively drawn, which attracts special attention of users. It is logical that the Wild symbol is depicted as a flowerpot with yellow flowers, because it always warms us with its appearance. As in many other slots, the wild function is simple: to replace the missing symbols in the chain to form prize combinations, if these are not Scatter or Bonus symbols. Violet flowers act as Scatter.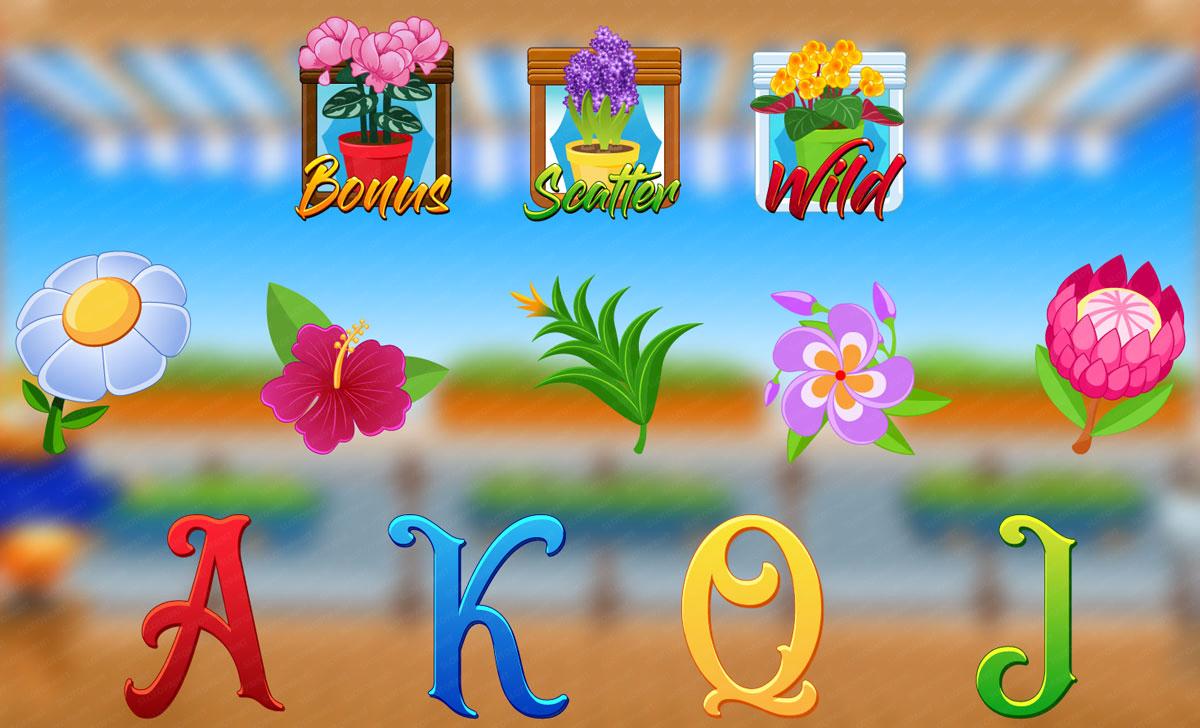 And of course, the crown of what is happening on the field is a bonus game. After three or more Bonus symbols appear on the reels, five flower pots will be displayed on the screen against the background of that very store. You are invited to help the cat water flowers from a watering can. If a flower appears from the flowerpot, the player receives winning points.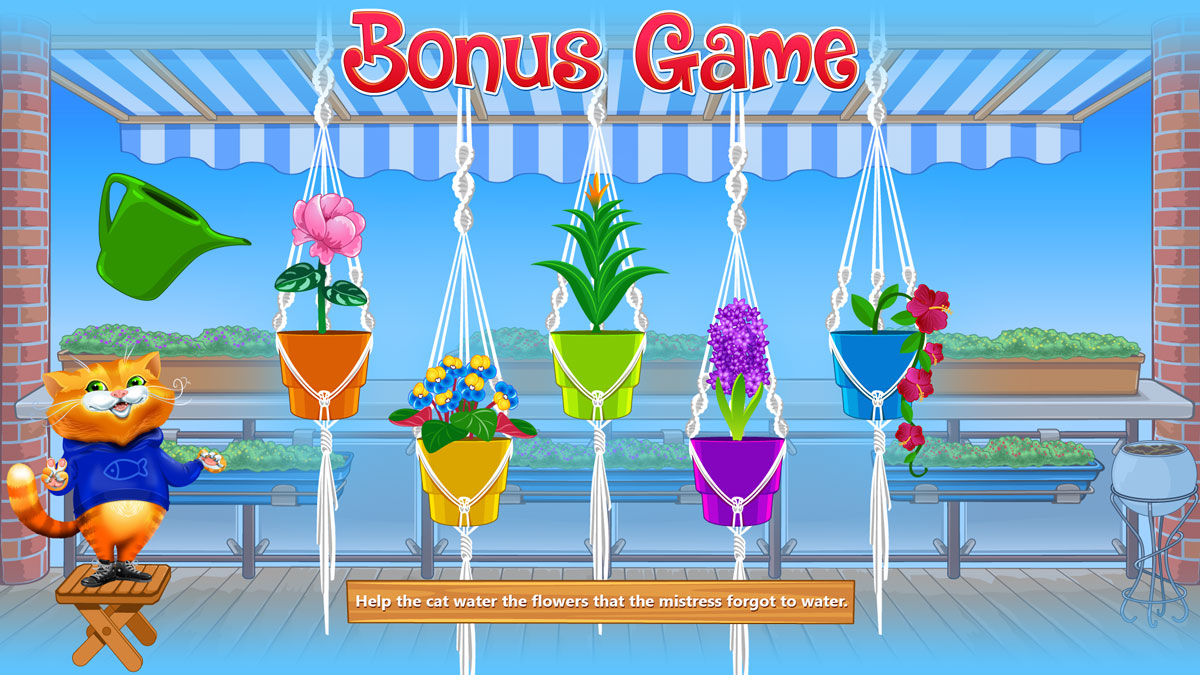 "Flower Gallery" gives fabulous winnings and floral mood.