Emperor's China Themed online slot game
For all fans of Eastern culture, we offer to plunge into a thousand-year history, to touch Eastern exoticism and age-old wisdom. The Emperor's Wealth slot machine has five reels and three rows on which thematic symbols are placed. To start the spins, you need to select the bet amount and press the "Spin" button located on the panel below the reels. The control panel is very simple and clear to both an experienced player and a novice. To purchase this slot, you need to go to our store – https://slotopaint.com/product/emperors-wealth/:

The game actions of the Emperor's Wealth slot machine take place on the background of the Great Wall of China. The graphic design of the slot is not only of high quality, but also of a drawn format, which makes the game seem both realistic and cartoonish.

Animals, according to the beliefs of the Chinese, are celestial creatures that personify the spiritual life of man. It is believed that if you'll pray to them, they will definitely come to the rescue, so we used their images in the slot symbols: dragon, panda, tiger. Wild symbol – this is a special element, which depicts a rooster, it replaces any symbol on the reels. The slot machine has a special symbol – Jackpot, in the form of an emperor with gold.

Animation effects used in all images also give realistic to the gameplay, so the game becomes exciting and fun.
On the screen below, you can see the auxiliary table of rules and here are brief classifications of game symbols from the category "High". For example, The symbol "Wild" (Сock) replaces any symbol on the game reels, excepting the "Scatter"and "Bonus" symbol. The symbol "Jackpot" (Emperor) grants the player a Huge Win. And the symbol "Scatter" (Cookies) (in a case of appearing more than two) brings to the player activation Free Spins Round: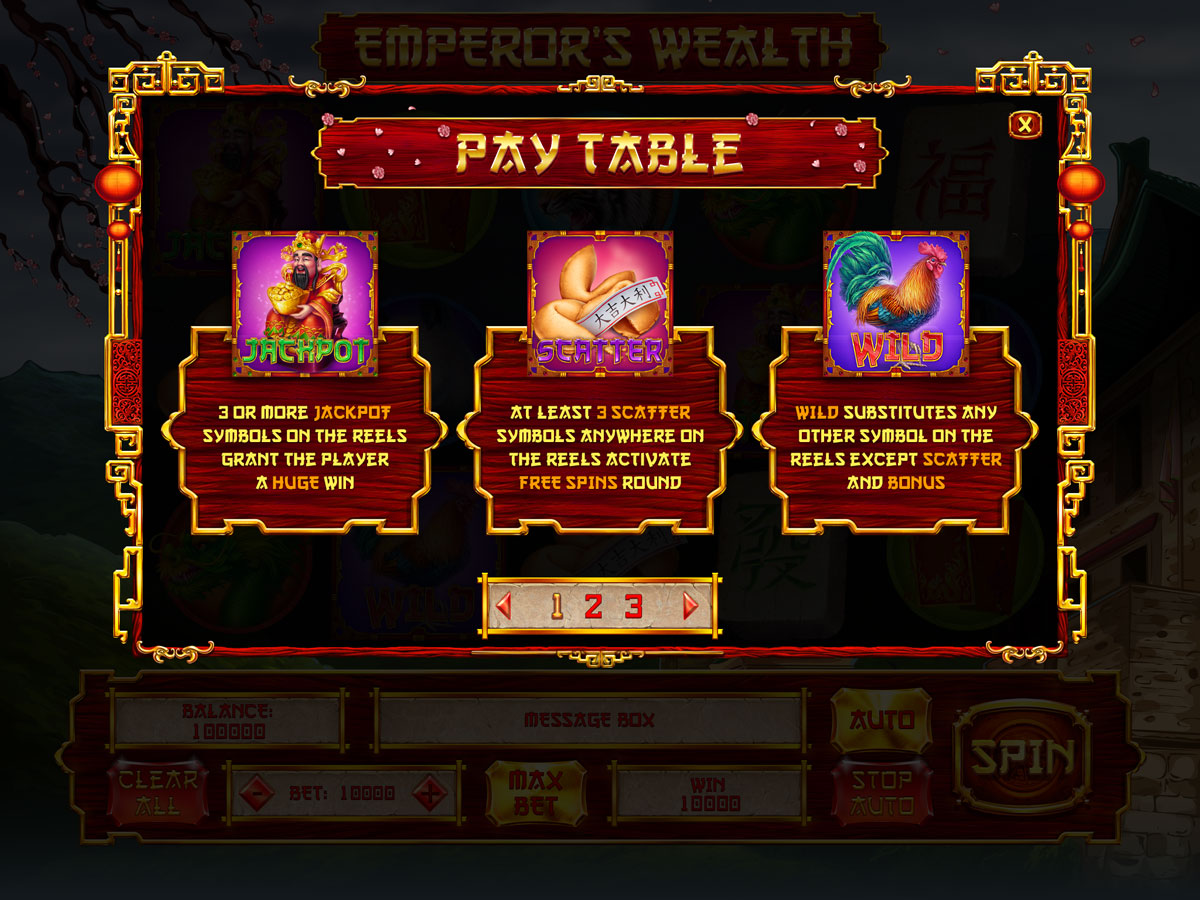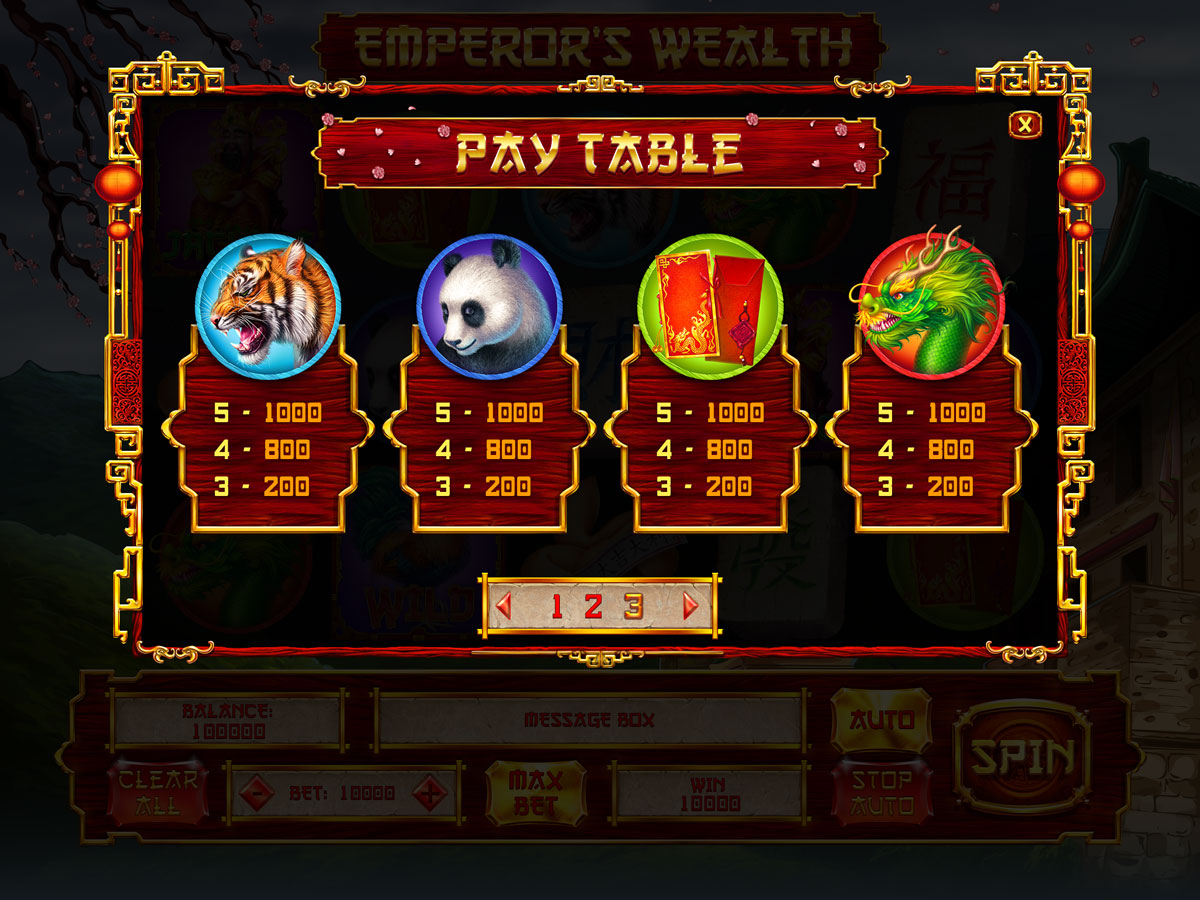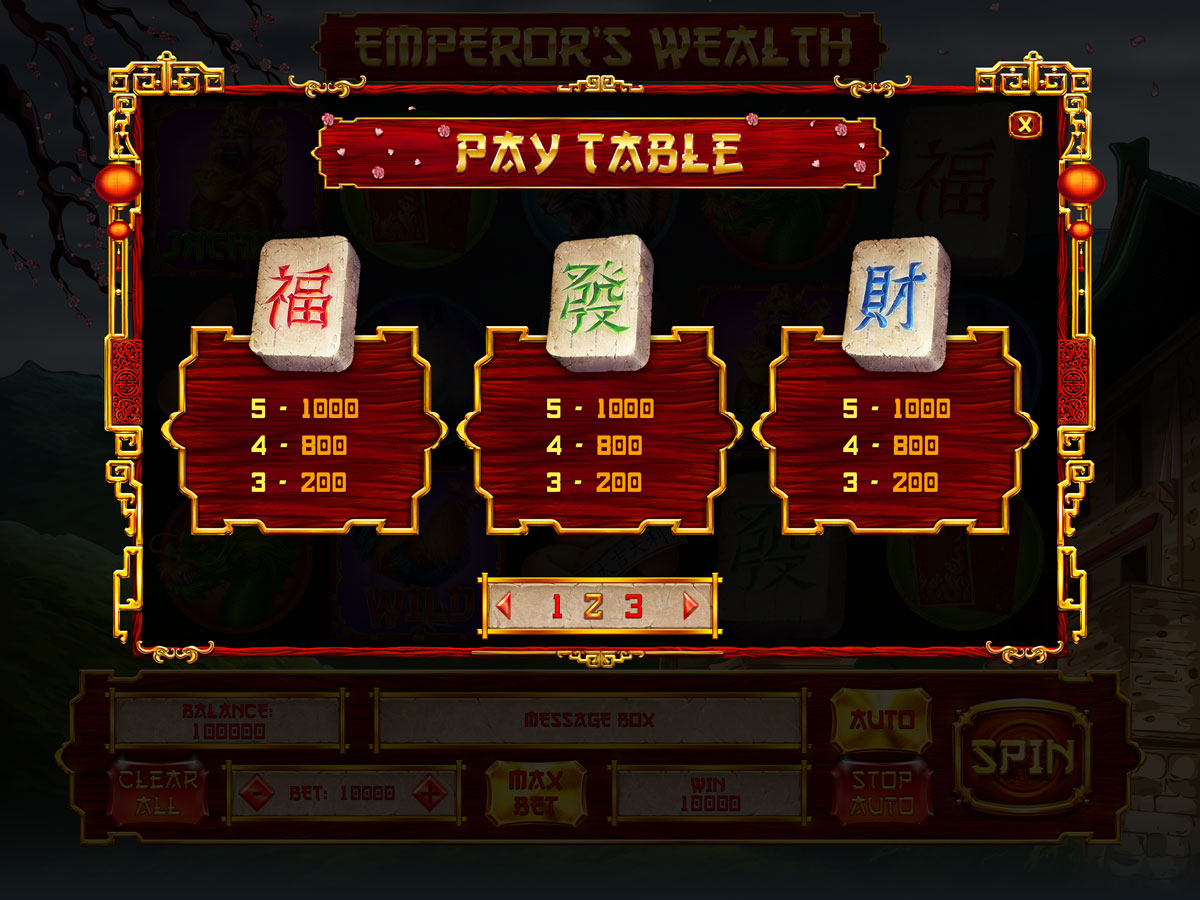 The next four screens are pop-up screens, giving information to the player of the following:
On the first – Congratulations with the Bonus game;
On the second – Winnings from Bonus game;
On the third – Congratulations with the Free Spins game;
On the fourth – Winnings from Free Spins game.