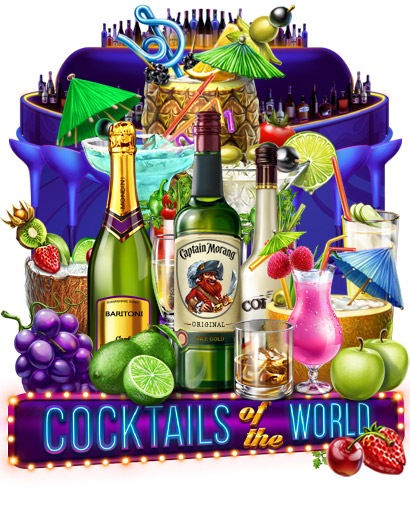 Cocktails Themed online slot game
Have you heard the history of the cocktail? Interesting? Then I tell you, this is a romantic and funny legend. So, imagine, distant times, about 1770, a New York bar, the owner and his favorite rooster. Once, after regular evening gatherings, the rooster disappeared and the owner announced that whoever finds the rooster, would received precious daughter to wife. After some time, the young officer returned his missing to the owner of the bar. The rooster had been in combat before, and lost its tail. The owner of the bar kept his word and announced the upcoming wedding. His daughter was very worried, from the very thought of a wedding with a stranger and emotionally began to mix different drinks, which they came up with the name "cock tail" – cock's tail. Would you go in search of a rooster, for the sake of a beautiful daughter? Then full speed ahead! If you are interested in this product, you can purchase it at our store – https://slotopaint.com/product/cocktails-of-the-world/.
Game reels slot is decorated brightly and colorfully, a lot of light, neon. The inscription "Cocktails of the World", illuminated and decorated with light bulbs, like in a real bar. The main place is occupied by cocktails, bonus symbols, scatter, wild. At the bottom of the game reels there are buttons: balance, message box, maximum bet, clear all, win. The slot can be set to auto-mode, a spin button stylized as a metal shaker.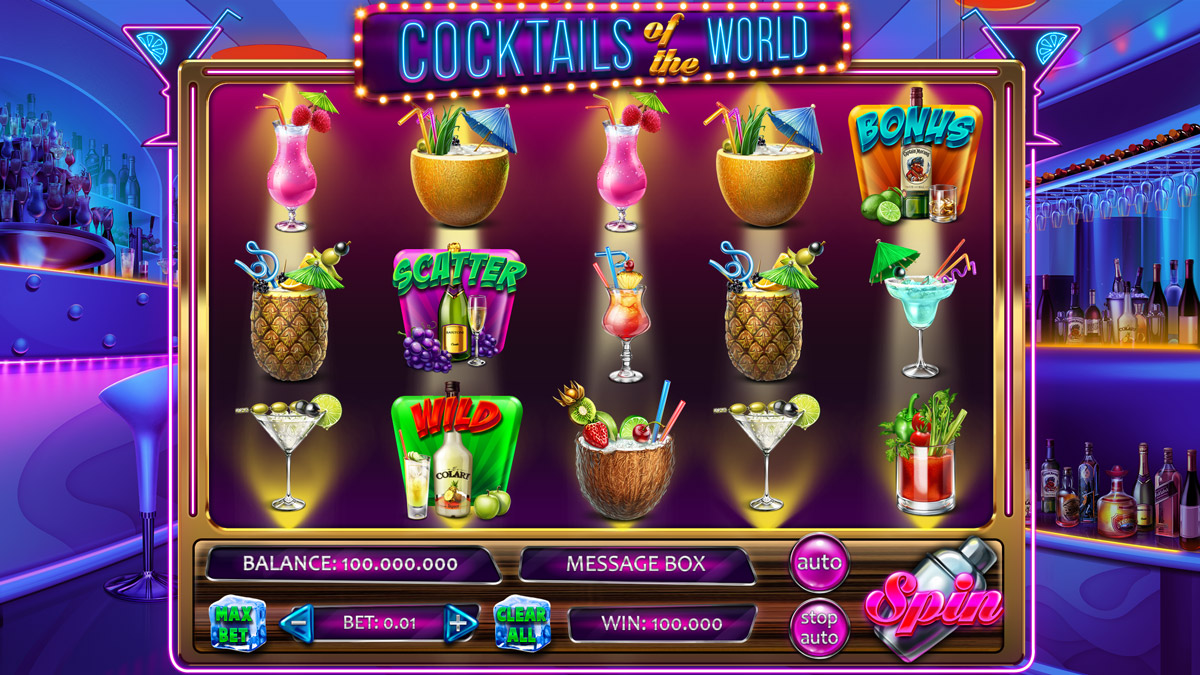 The game background takes us to the bar. You can feel the classic atmosphere. At the bar, there are chairs, huge showcases with a variety of elite alcohol. The floor and ceiling of the establishment echo with stripes. There are many neon lights on the ceiling. At the end of the bar, there is a cozy lounge area. Many colorful lights and a large selection of alcohol will not let you get bored.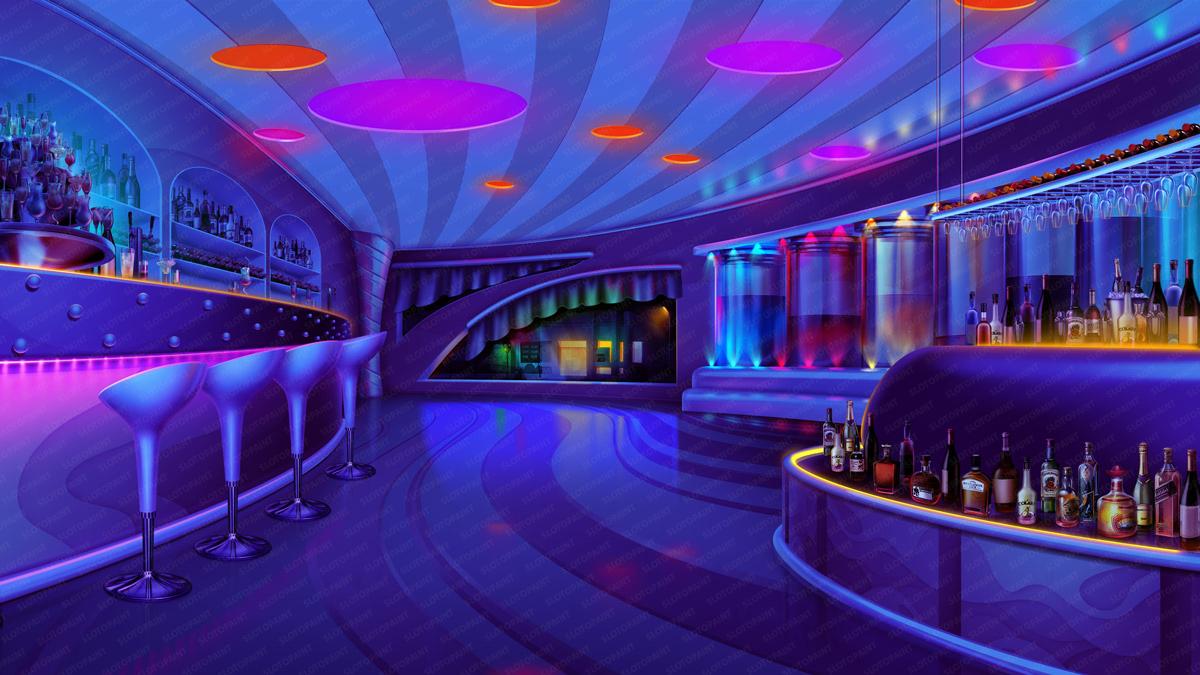 Let's move on to the symbols: we have them very diverse in taste, absolutely all cocktail lovers will find something of their own for a fun atmosphere and unforgettable impressions.
Bonus symbol is Captain Morgan rum. Rum tastes brighter and richer than cognac and whiskey. By the way, this rum has a motto "Live like a captain". Does this motto suit you? Feel like the captain of your destiny and go ahead for the winnings! Scatter symbol is a sparkling drink for those who like bubbles and a feeling of light fun and sparkle in their eyes. This is champagne, with a taste that you can taste only here and now, and with the aftertaste of victories. A bottle of green glass, next to a glass prepared especially for you and purple sweet grapes. Wild is a pineapple and coconut liqueur that is very sweet and not very strong. A drink for sweet lovers. Served in a glass, the cocktail is decorated with pieces of fruit and ice.
Middle slot symbols are cocktails that well known all over the world. The most popular representatives of each country, they are all here. We suggest trying each one, two pictures are dedicated to this. On the first: a cocktail for two Berry Extravaganza, so come with your half, two straws and fresh berries are waiting for you. Classic Bloody Mary, with an original presentation, garnished with peppers and herbs. For a thrill. Blue Lagoon, probably familiar to you. Martini Dry, feel like a real James Bond. Cosmopolitan, a drink for the ladies, with freshly squeezed juice.
The next image shows middle symbols for connoisseurs of beach cocktails and parties. The first is Coconut Paradise, served in real coconut, Pinacolada, with original serving, in real pineapple, and a sweet drink, served in melon. All drinks have their own taste, which is unlike any other cocktail.
We have familiarized ourselves with the drinks, please also look at the payable plates. Three pages of the Paytables are presented on the same purple-violet background, highlighted in green, which is refreshing to the eye.
On the first screen you can find out that the Wild symbol replaces any symbol except Scatter and Bonus. Three or more Bonus symbols anywhere on an active payline will trigger a bonus round. At least three Scatter symbols anywhere on the reels activate free spins.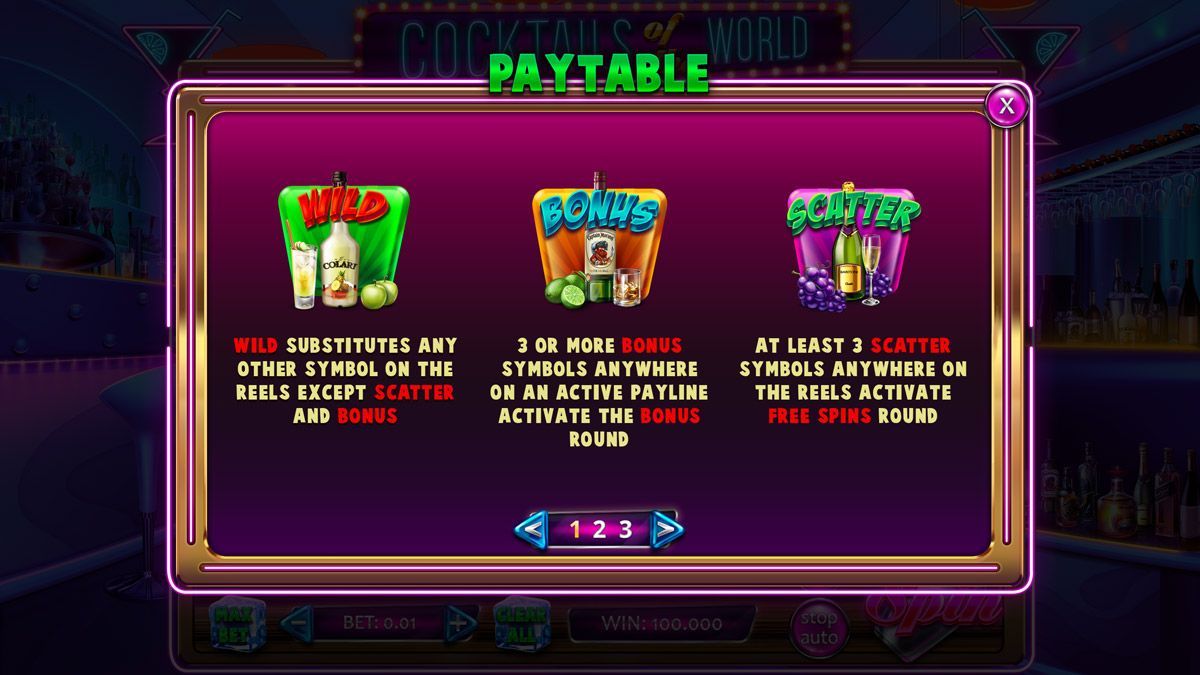 On the second page, using beach cocktails of all kinds, you can win: 5 x 1500, 4 x 1000, 3 x 800, 2 x 20.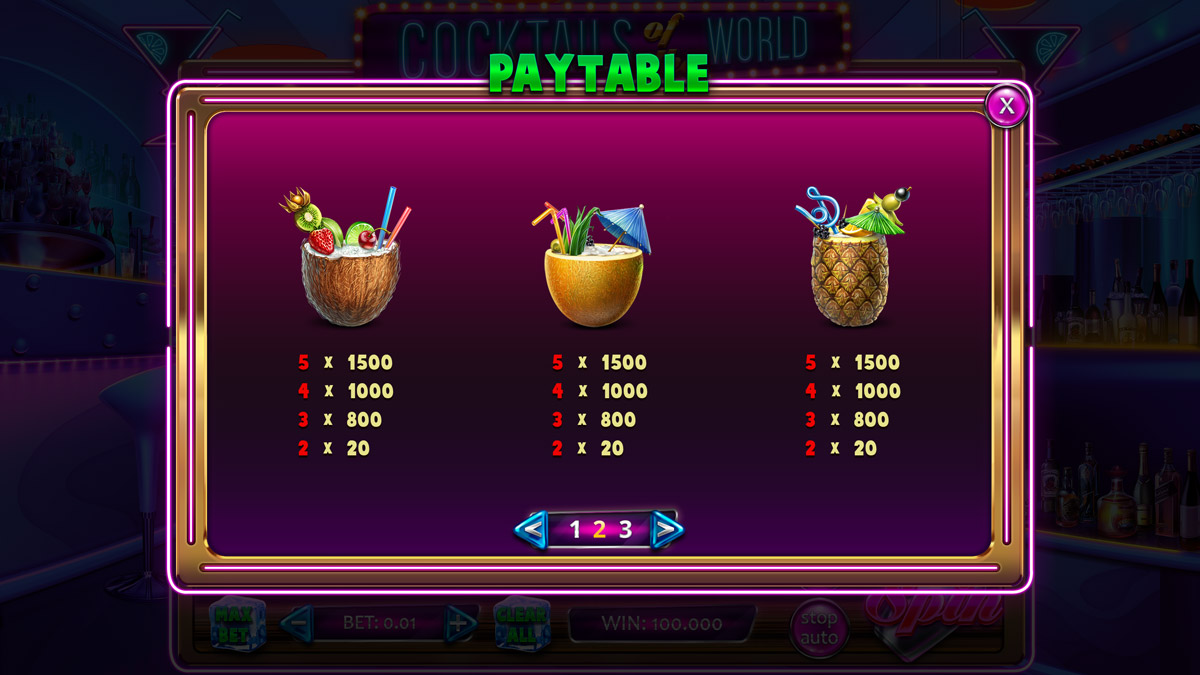 The third page also contains information on winnings and cocktails from the bar: 5 x 1500, 4 x 1000, 3 x 800.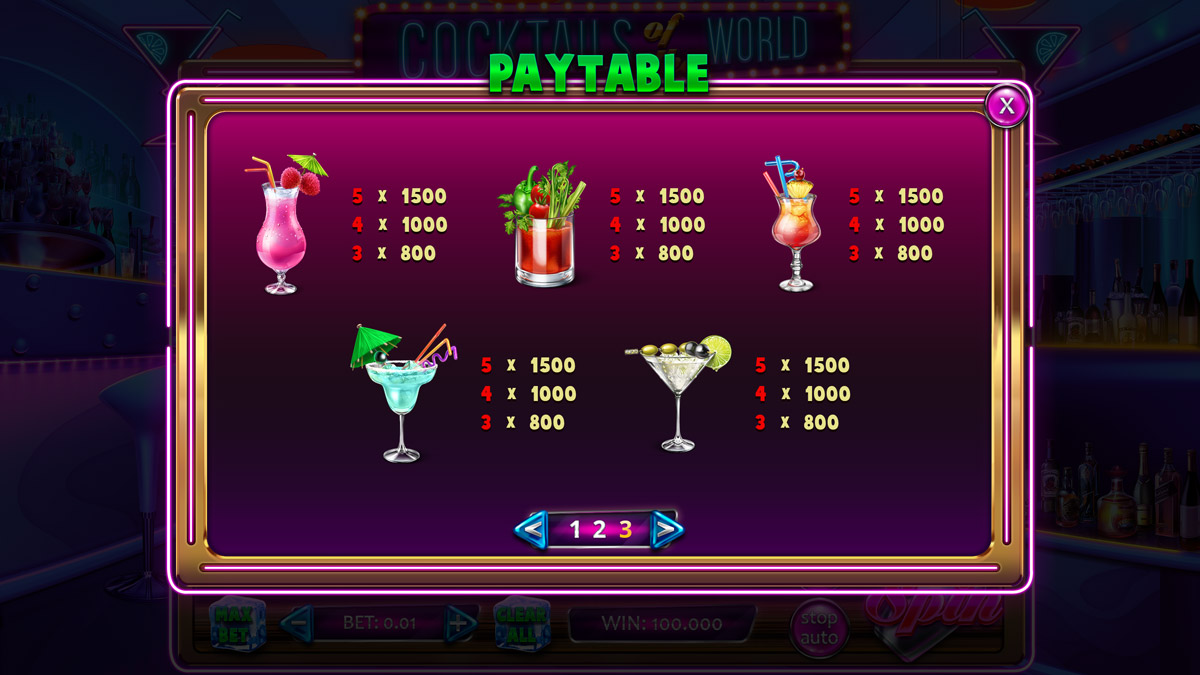 Let's move on to the congratulatory pop-ups, they are lit by many bulbs, against a purple background. Here you can see the following inscriptions: free spins, five thousand dollars win from free spins; bonus game, five thousand dollars win from the bonus game. OK button is designed in as shaker.