St. Valentine's Day Themed online slot game
Valentine's day is special. It seems that spring, ahead of its calendar period, looked in for a few hours to say: "Don't be sad – I'm not far off! I bring you love!" Love stories can warm any heart and fill it with unique emotions that will be overwhelmed with experiences and plunge into the happiness of love anxieties. Here you will be moved into the evening affectionate atmosphere of St. Valentine. Therefore, in addition to being able to win an excellent amount for a present to your loved one, you will completely absorb the spirit of such a pretty and sweet holiday. These events will occur on 5 reels and three lines. To give sweets and berries, to write touching love letters, to kiss under the starry sky – all the magic of romance will surround you throughout the game in this machine. You have to experience all the unique emotions of love. If you want to quickly familiarize yourself with all the symbols of the slot, we suggest you make your Bet and click on the lampshade Spin button. If you want to trust the cupid to the maximum, the Max Bet button will come in handy. If you are tired of clicking on the Spin button, then an automatic game mode will help you. There you can also to set an amount of the bet. Also, if you are interested in our new product, you can purchase it at our store – https://slotopaint.com/product/valentines-night/: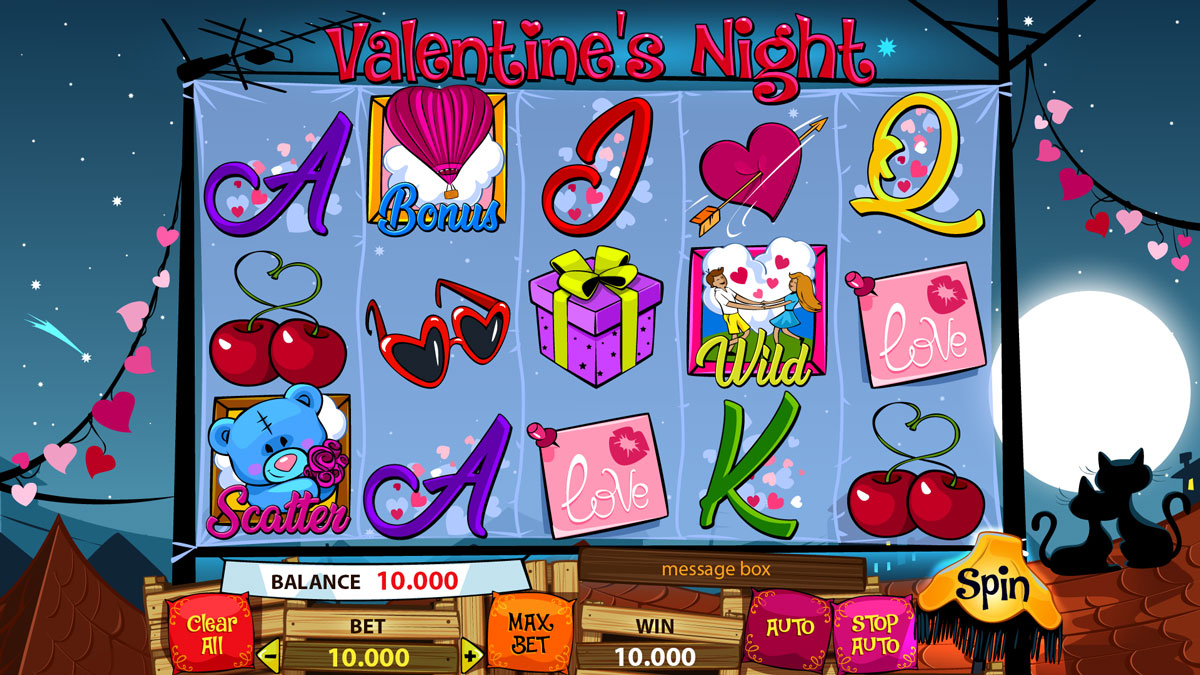 The tops of the roofs of buildings against the sky strewn with stars. Somewhere in the distance, a star falls, which, unconditionally, will fulfill your every desire. A pair of black cats in love bringing luck and happiness. And all this under the rays of a bright and mysterious moon. It's hard to imagine a better background image.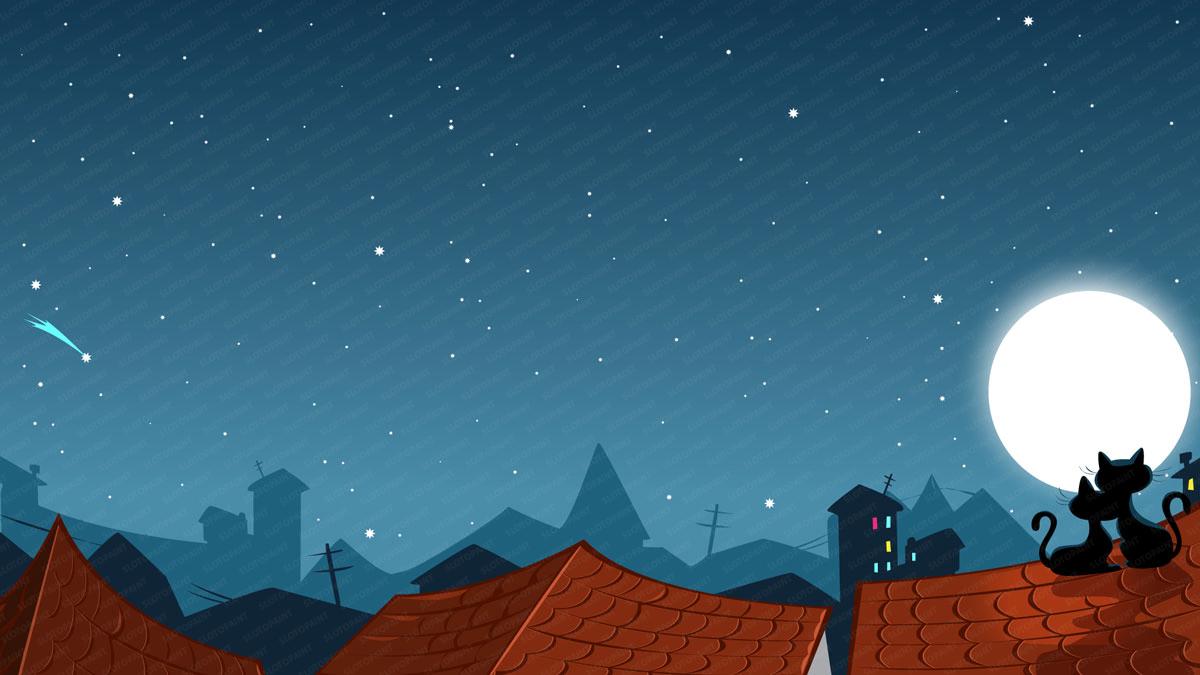 As you can see, the color of the holiday is red. Everything pink, scarlet, burgundy and bright ruby is in trend today. Any thing in these tones will respond in the heart. The main symbols attract with their organicity and fully fit into the theme of the slot. There are symbols of card signs. In addition, the "wild couple in love" will replace the symbols on the reels to create even more winning combinations. More wins can be received during free spins, which are triggered by three or more symbols of a cute, blue, soft teddy-Scatter. Of course, together with all these symbols, your secret adventure on Valentine's Day will be more than profitable.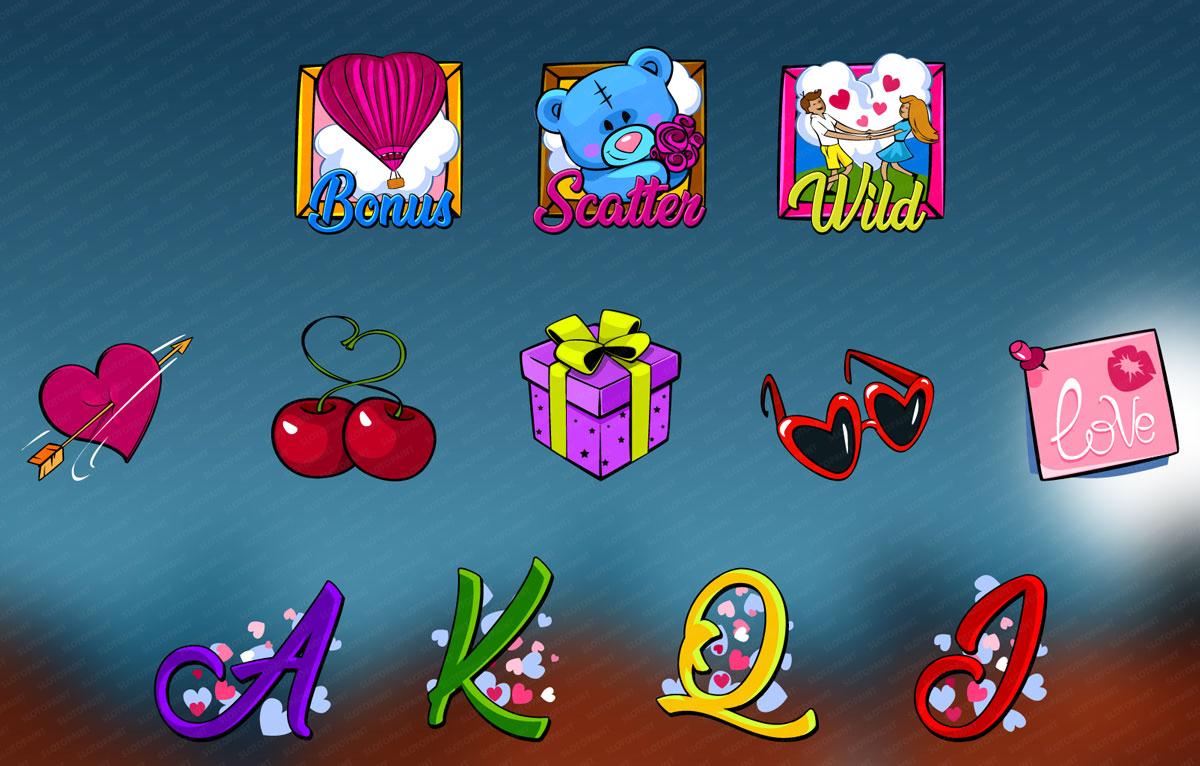 There is a bonus game. What else can add romance, if not rising to the starry sky in a balloon. So our ball in several combinations will take you to the bonus mode. During the bonus game, under cover of night, you have to find from the nine proposed valentines exactly those that are designed specifically for you, and behind which there is not only a secret love message hidden. In this case, you have to choose different valentines in a romantic courtyard and get a reward for this.
At any moment when you want a little romance, love and warmth. For example, on February 14, Valentine's Day, to play it will be very helpful. The myth that men don't like romantic surprises has long been dispelled! Therefore, we invite everyone – romantics and not so, men and women. Love is necessary for everyone.