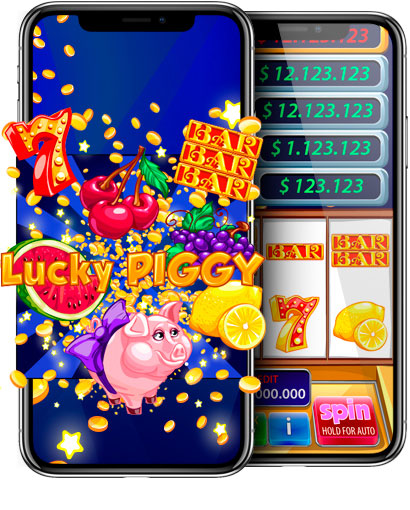 Piggy Themed online slot machine
It is enough to look at a cute pig once, and you immediately feel that everything is fine. Here she is: with round cheeks, calm, she even adorned herself with a bow. It is difficult to imagine another image that so accurately embodies well-being and wealth. May this pig bring good luck to the players! Coins are about to ring and bright lights shine. Welcome to Lucky Piggy mobile slot! If you are interested in this product, you can purchase it at our store – https://slotopaint.com/product/lucky-piggy/
The game reels are similar to a classic slot machine. The white screen with symbols is divided into five sectors. The square and rectangular buttons have a classic design. In the lower left corner there is a place for the player's avatar and name. The progress bar shows the progress of the game.
The game background depicts a real rain of abundance. Gold coins and shining stars are poured from above. Bright beams of spotlights illuminate the coins and seem to invite players onto the stage to collect the reward.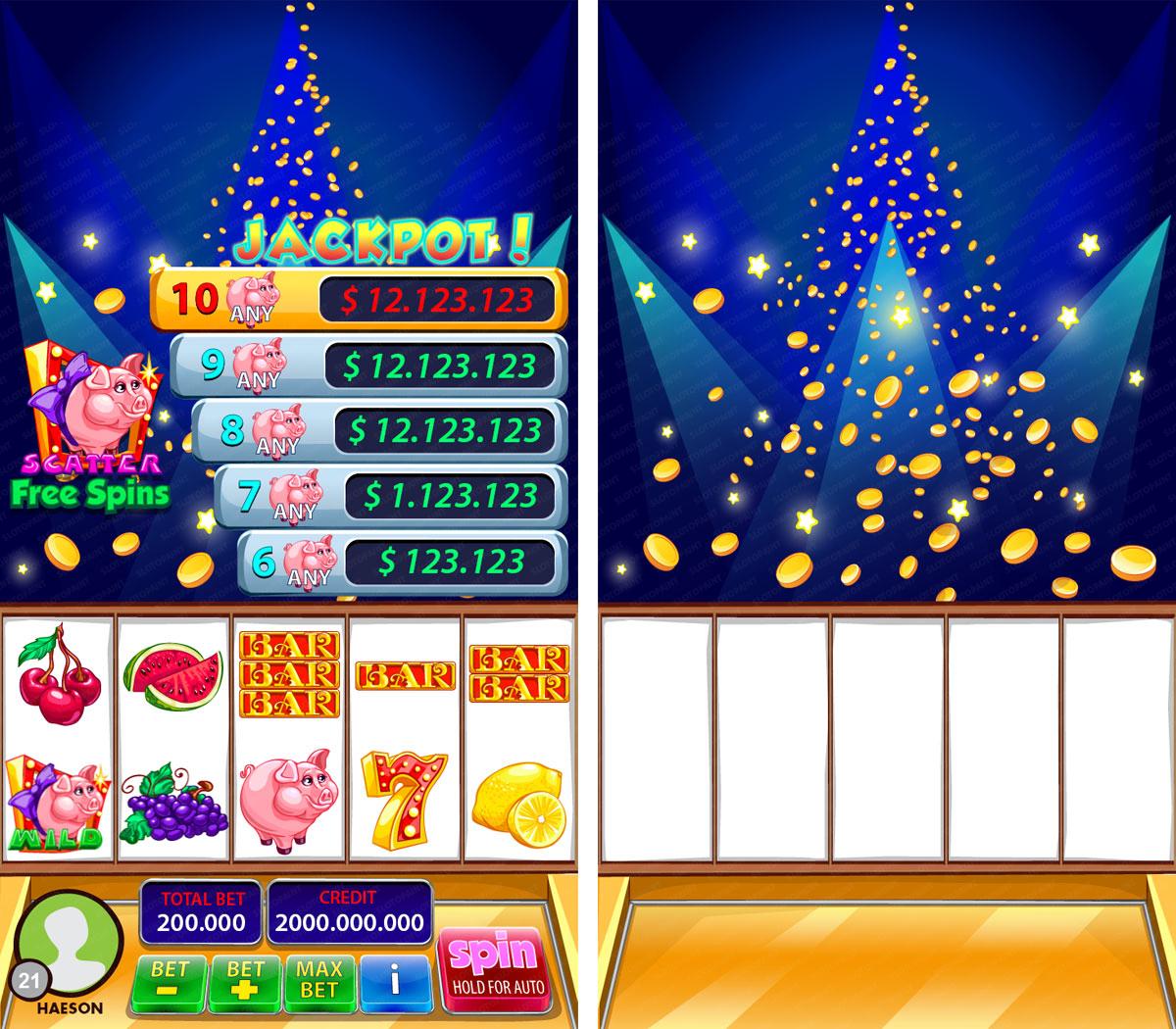 Wild and Scatter symbols depict a pig looking out of a bright red frame. The pig is decorated with a purple bow.
In the next row of symbols, we once again meet a pink pig, but without a bow.
Another symbol that emphasizes good luck is the large number "7". The number seven is considered lucky in many cultures. Seven is traditionally used as a symbol of classic slot machines.
Three more symbols are the inscription "Bar" in different versions. Each symbol consists of one, two or three labels.
And, of course, if we are talking about the classic design of machines, there must be fruit in it. And this is natural, because fruits symbolize wealth. Among the slot symbols are cherries, lemon, watermelon and grapes. They look very appetizing!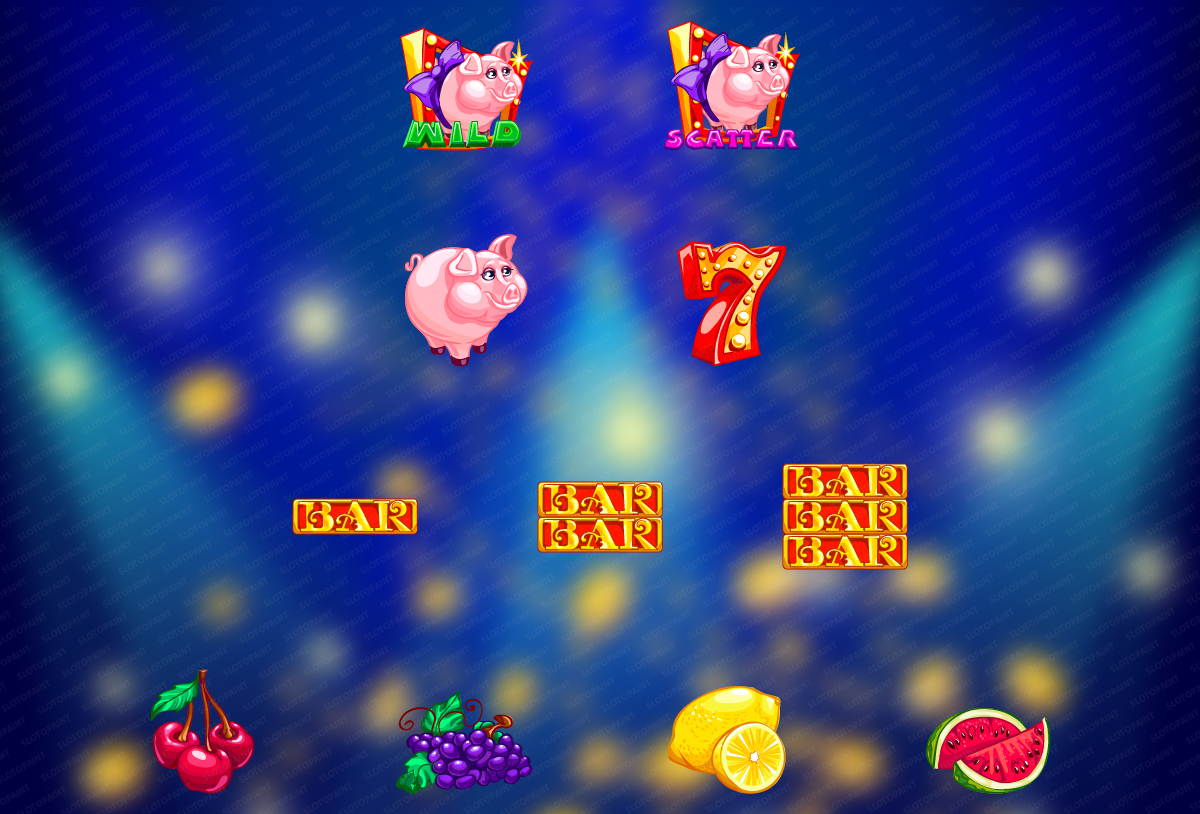 At the end of the game round, a screen with score information appears. In the first version, the reels are darkened. The game summary appears on top of the reels. There are info plates above the reels frame. In the second version, combinations of symbols are clearly shown in bright color. Above, info plates also appear.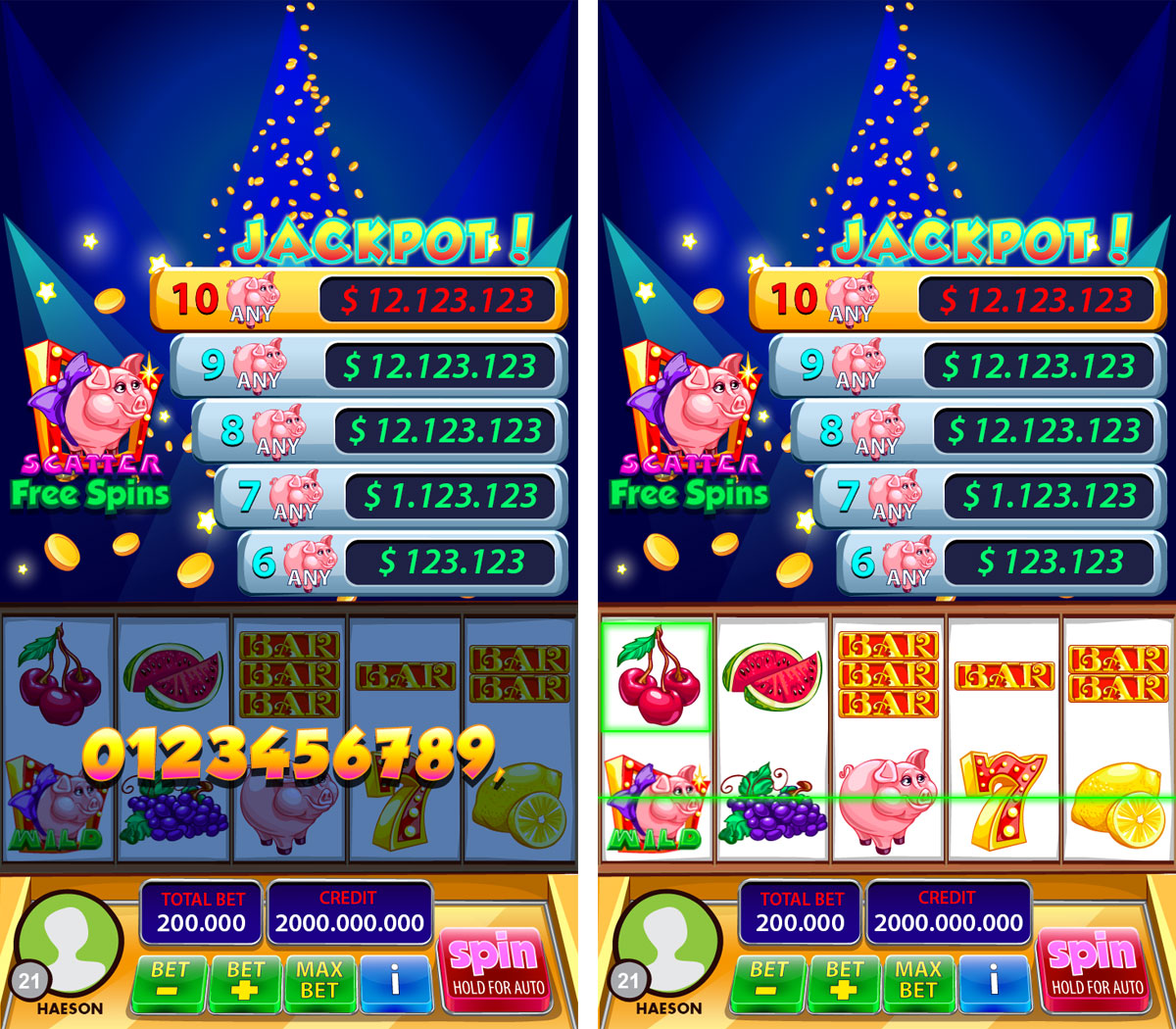 In a case of "5 of kind" or "Big win", the reels are darkened and the corresponding inscription appears.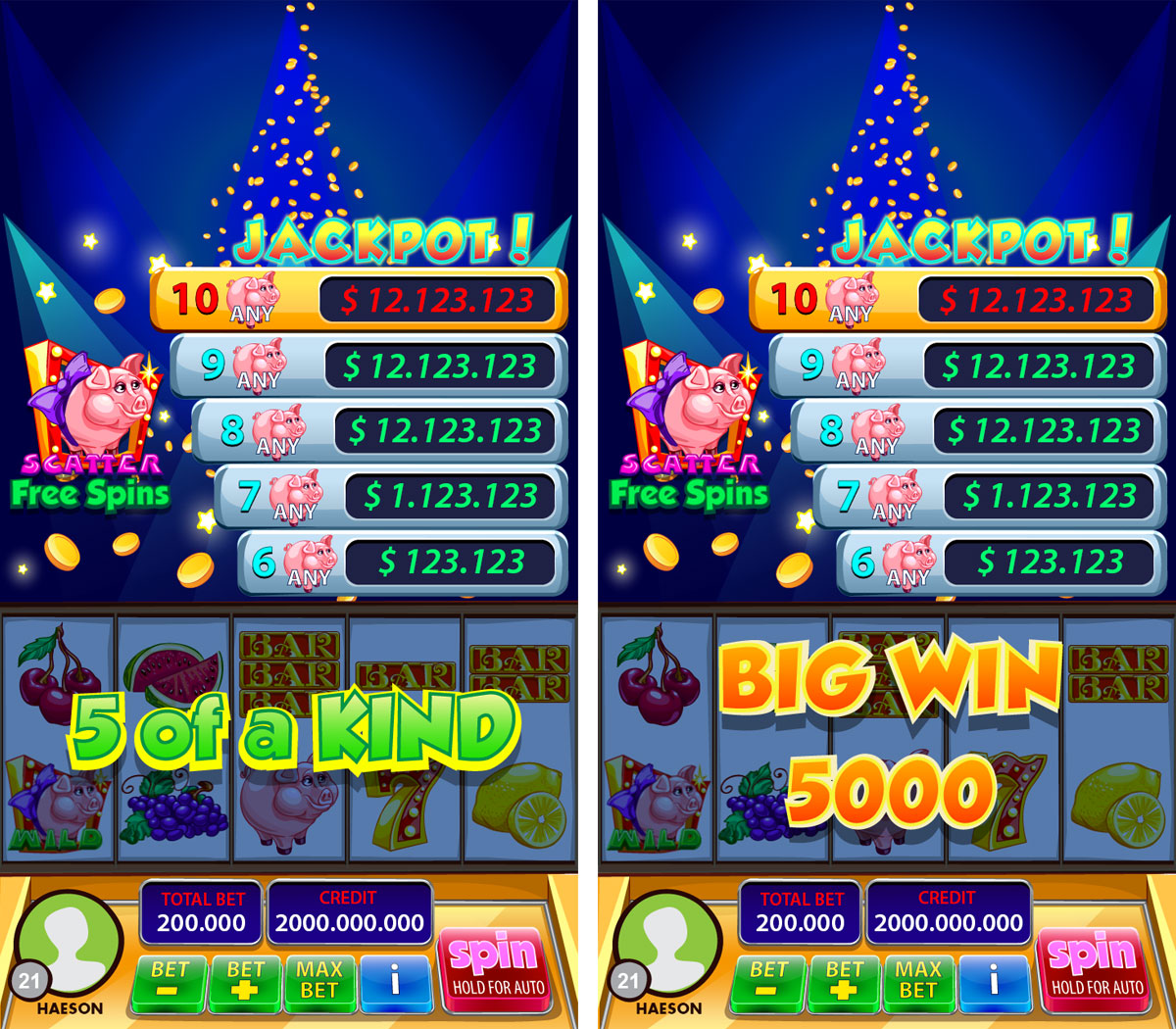 A combination of two shades of blue is used in the design of the screen with the slot information. There is also an image of the main character of the slot – a pig. Both variants of the pig symbols are shown – with a bow and without a bow.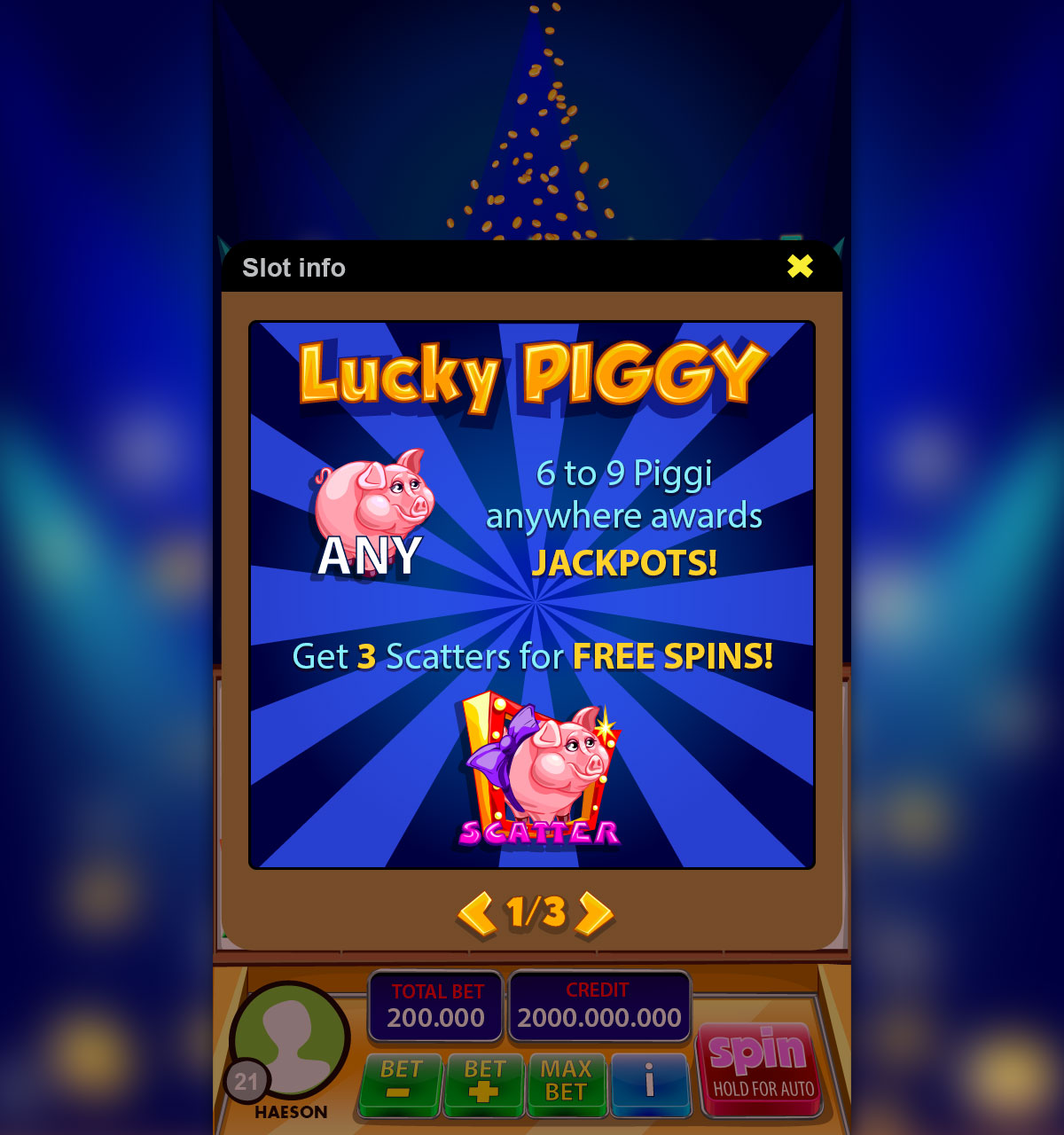 If the Jackpot is won, the game background and the reels are darkened. Text appears with Jackpot and score. Bright stars sparkle around the screen.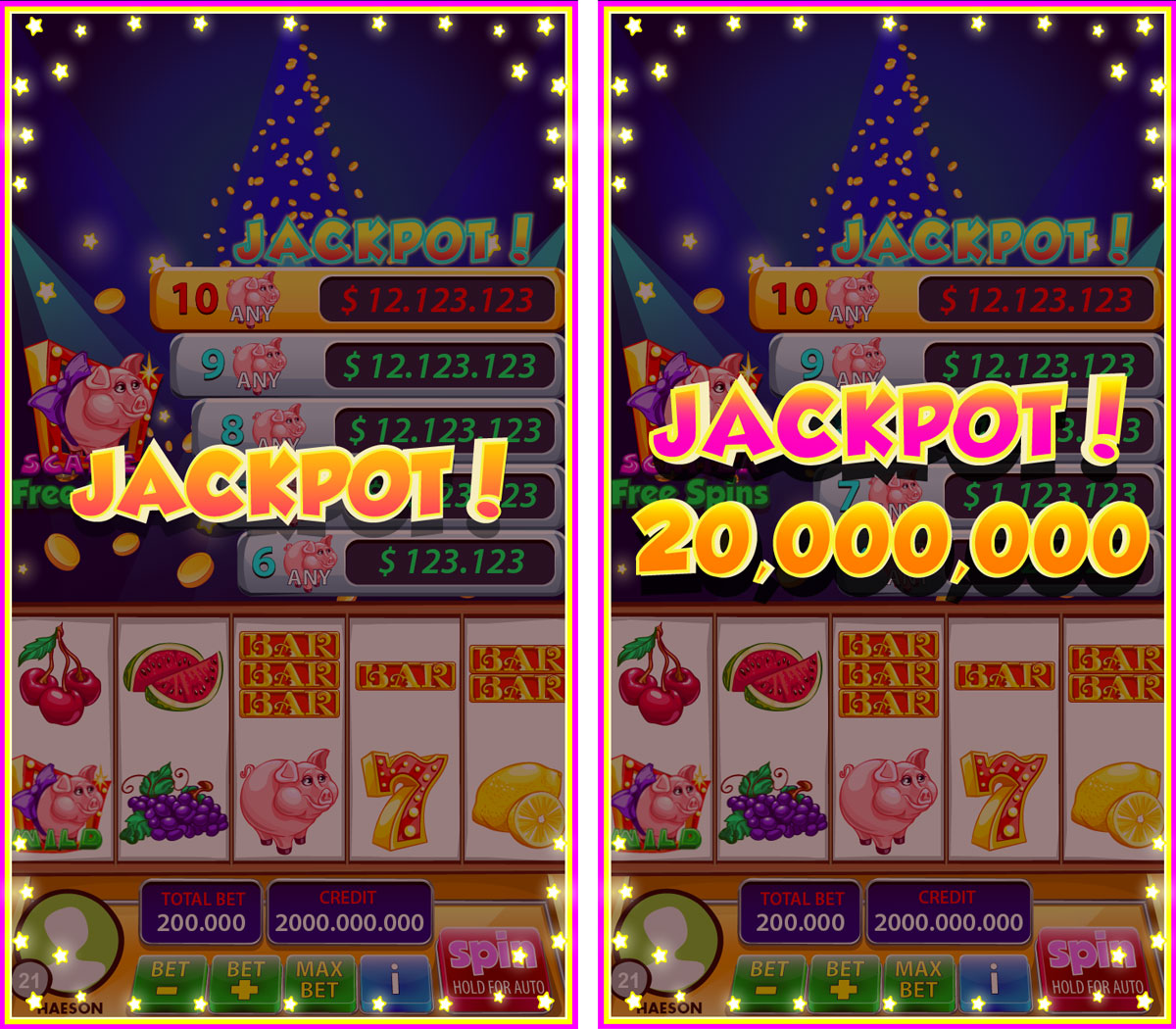 Paytables design resembles the game reels. The information about the meaning of the symbols is located on a clean white background.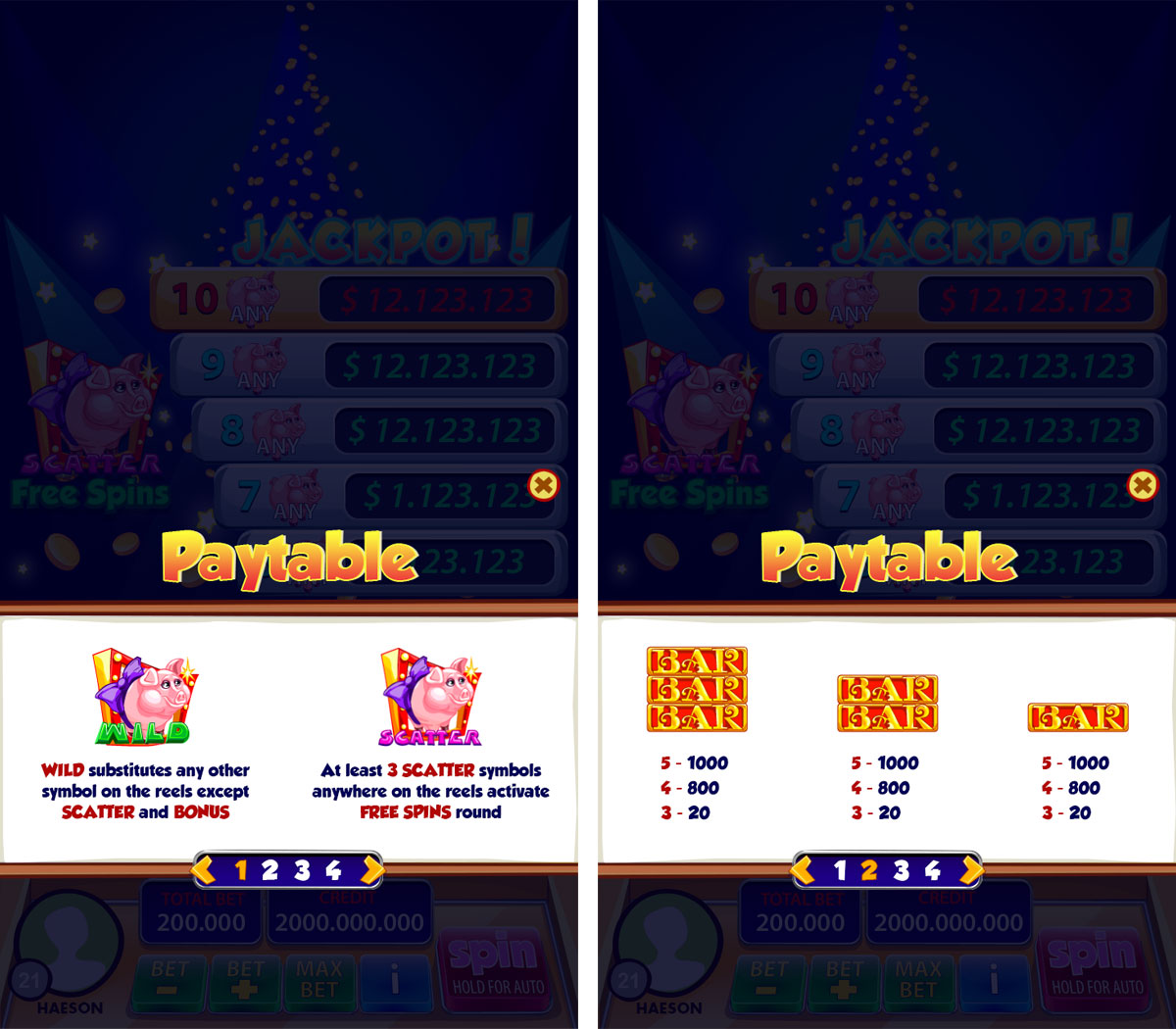 The following screens are provided for information about bonus spins or bonus games. The background and reels are darkened. The bonus text appears on the dark blue plate. Stars are shown at the top and bottom.