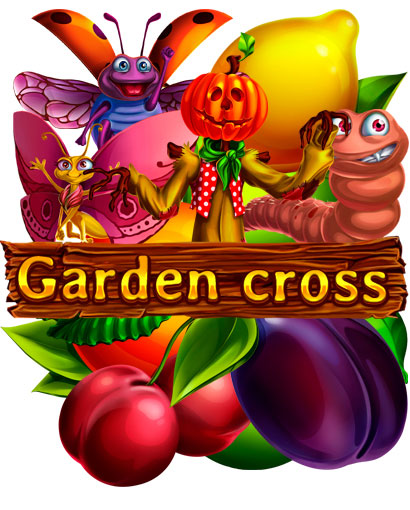 Fruits Themed online slot game
Are you at heart a lover of a garden and a vegetable garden, a connoisseur of everything natural and grown with your own hands, made with love, but in real life there is not enough time for this? Then welcome to the virtual world of the Green Kingdom – Garden Cross, a mind-blowing adventure crossroads. If you are interested in this product, you can purchase it at our store – https://slotopaint.com/product/garden-cross/.
The amazing juicy picture of the Garden Cross slot immediately catches your eye. The frame of the logo is made of timber with golden lettering. At the corners of the inscription, we are greeted by the Scarecrow and Mr. Worm, smiling with their welcoming smiles. Reels frame is made of gold. Pay attention to the control panel below: game balance, clear all, maximum bet and start button. You can put the game on auto-mode, this is for Turbo winning. And this million can be yours. This is no longer a farmer's childhood dream, but an opportunity to make it a reality.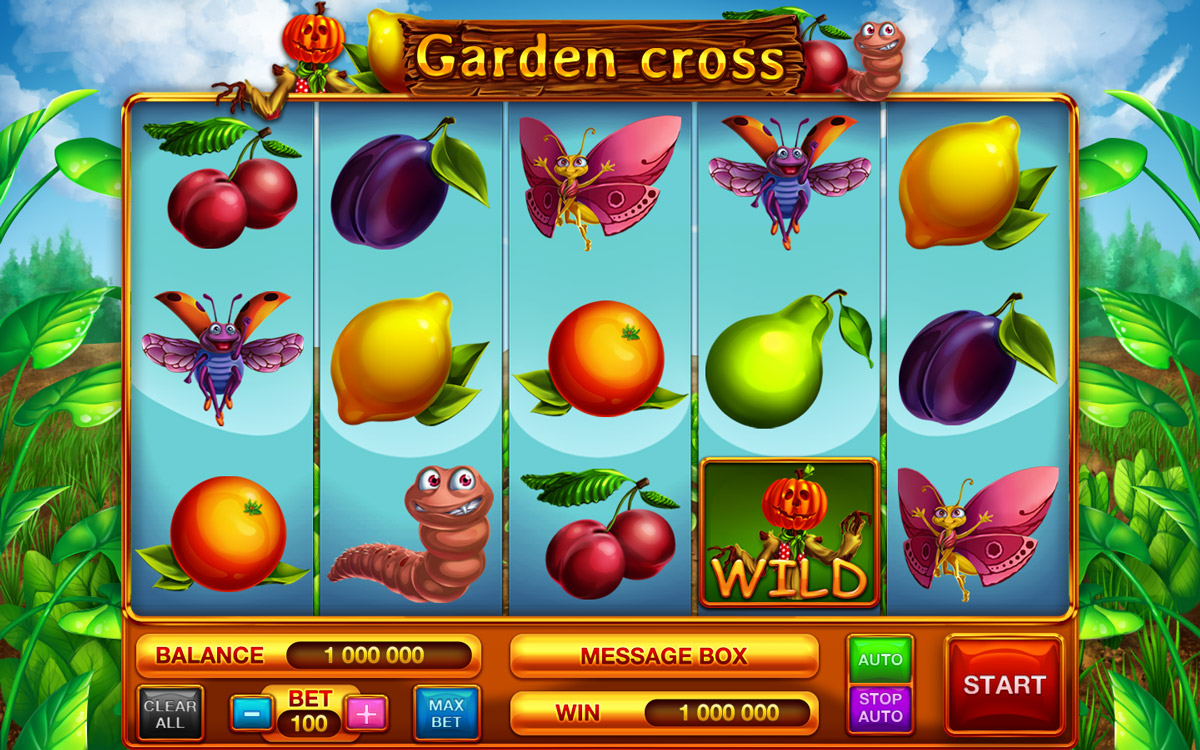 At the background of the game, we see endless green spaces – this is the Garden of desires, what you sow is what you reap. Therefore, be bold in your desires. Here we see fabulous cabbage, spinach for super – strength, and many more green magic plants that will lead you to victory. Take a look at the sky – blue, clear, cloudless. Nothing darkens the path to winning.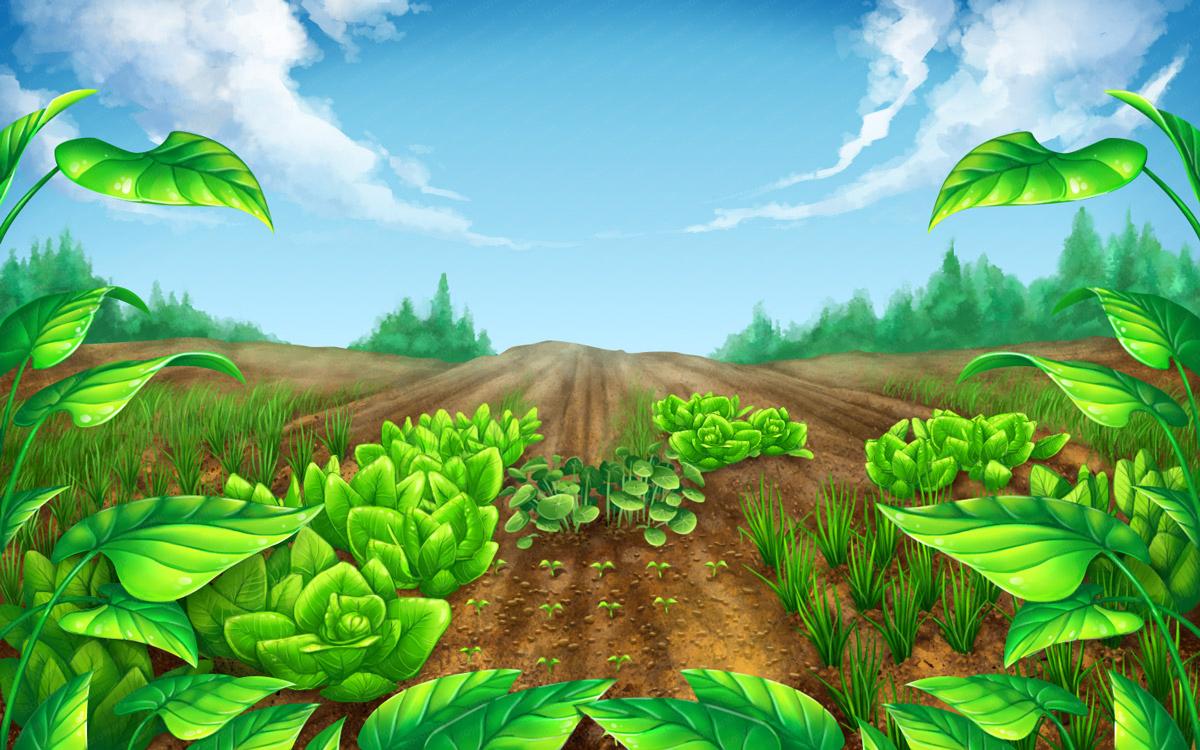 On a green background are: funny multi-colored butterflies, a very rare species, you will not meet them on the street. They lure with colorful wings, cheerful smiles, cartoon eyes farther and farther into the game. Also pay attention to these only ripe fruits plucked from your magical Garden. The rays of the sun play on the fruits, drawing more and more new highlights. We just want to bite this ripe purple-dark plum. The insidious worm, which guiltily looks at the plum (could not resist, tasted it), will not pass by, and this is understandable, it is so juicy, by the way, like the rest of the fruits. We can take a closer look at our main characters: a rosy-cheeked worm, a pink butterfly that waves to us, enticing us to play more, a scarecrow with a pumpkin instead of a head, but do not think that he is stupid, he is very, very inventive. Also we see a rare four-winged purple moth, he waves to us "hello, let's play!". Let's take a closer look at the fruits: a dazzling orange, a sweet couple of red cherries, a deep purple plum, a yellow sweet and sour lemon and a green pear.

Below we see a dancing animation. Here the Scarecrow rhythmically waves his arms, the Worm performs a wave-like dance with his whole body. The pink butterfly waves its tiny arms to the beat and merrily waves the two antennas on its small head. The four-winged purple butterfly performs frantic movements with its large wings, as if now it will fly above everyone in a second. The fruits are lined up and wiggle in their ripe juicy shapes. Wild symbol is Mr. Scarecrow. Instead of a head, he has a large orange pumpkin, with a cut out face, like on Halloween. Symbol Scarecrow with arms-branches, fingers are made by small branches of a tree. He is dressed in a pale yellow party outfit and a red bow tie with white polka dots. Do not consider him empty-headed, he knows how to make cunning maneuvers. This is a wild win, which means you hit a big jackpot.
Regular symbols are Mr. Worm, Mrs. Butterfly and Mr. Moth, depicted in a cartoon style. Colorful fruits, for every taste and color, this is all your possible win. Rather to victory!
Paytable is a golden inscription on a wooden block. All information is presented on a blue background for better perception and memorization. There are two pages allocated for this. On the first page we see the main symbols. Where the payoff is in one row: 5 = 1000, 4 = 800, 3 = 50. All this is given to us: Mr. Worm, Mrs. Butterfly and Mr. Moth.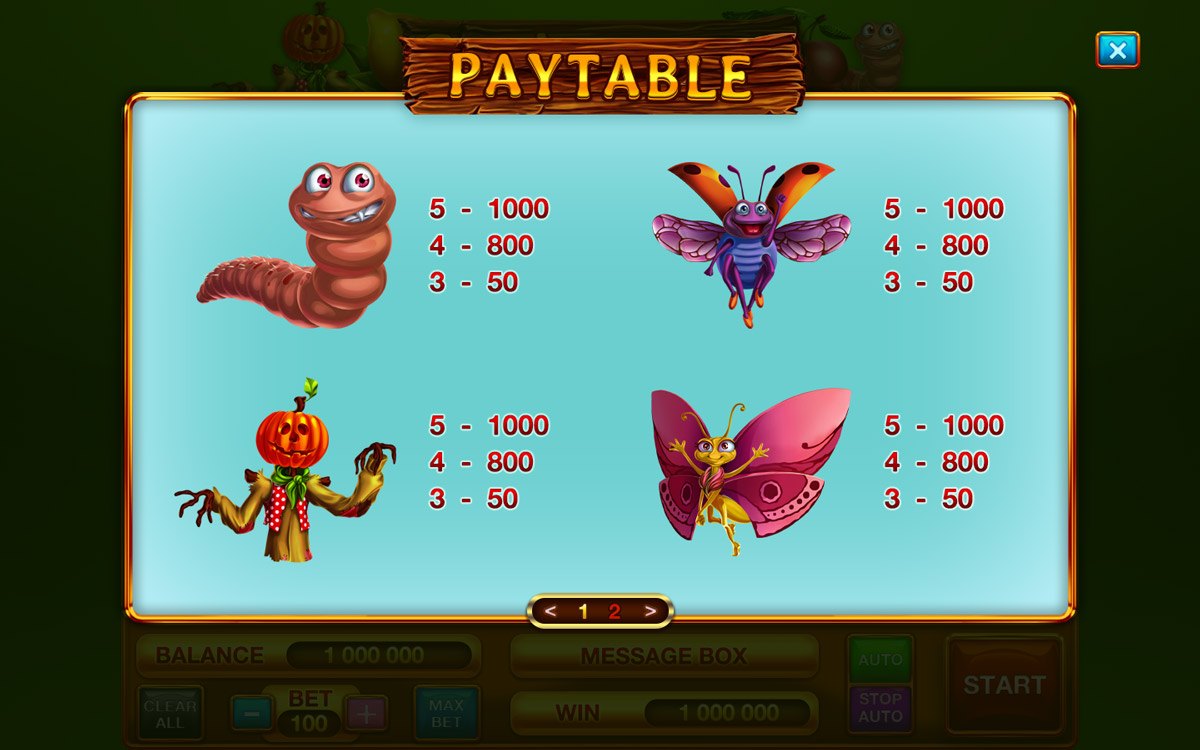 On the second page of the paytable we see fruits, it is also written how much we can win in one row: 5 = 1000, 4 = 800, 3 = 50.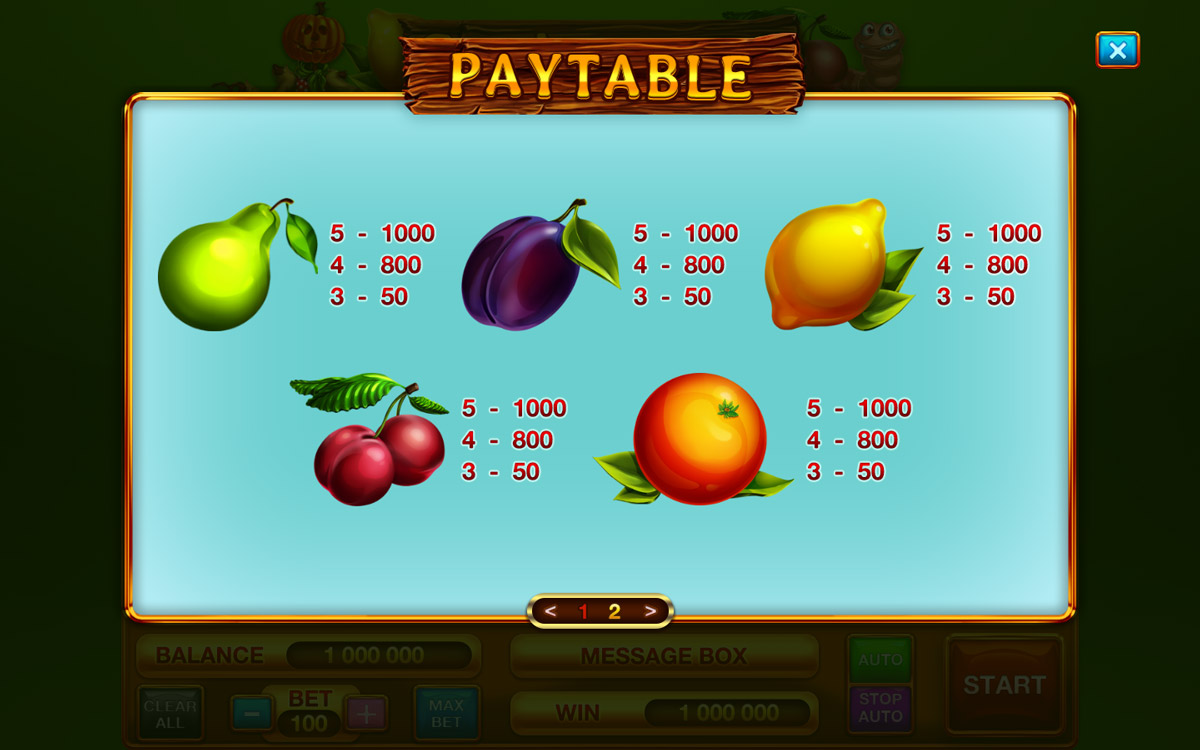 You are a winner, you have achieved your goal, and a pop-up window with congratulations is in front of you. It is designed on a green background. The first window shows message about Free Spins mode.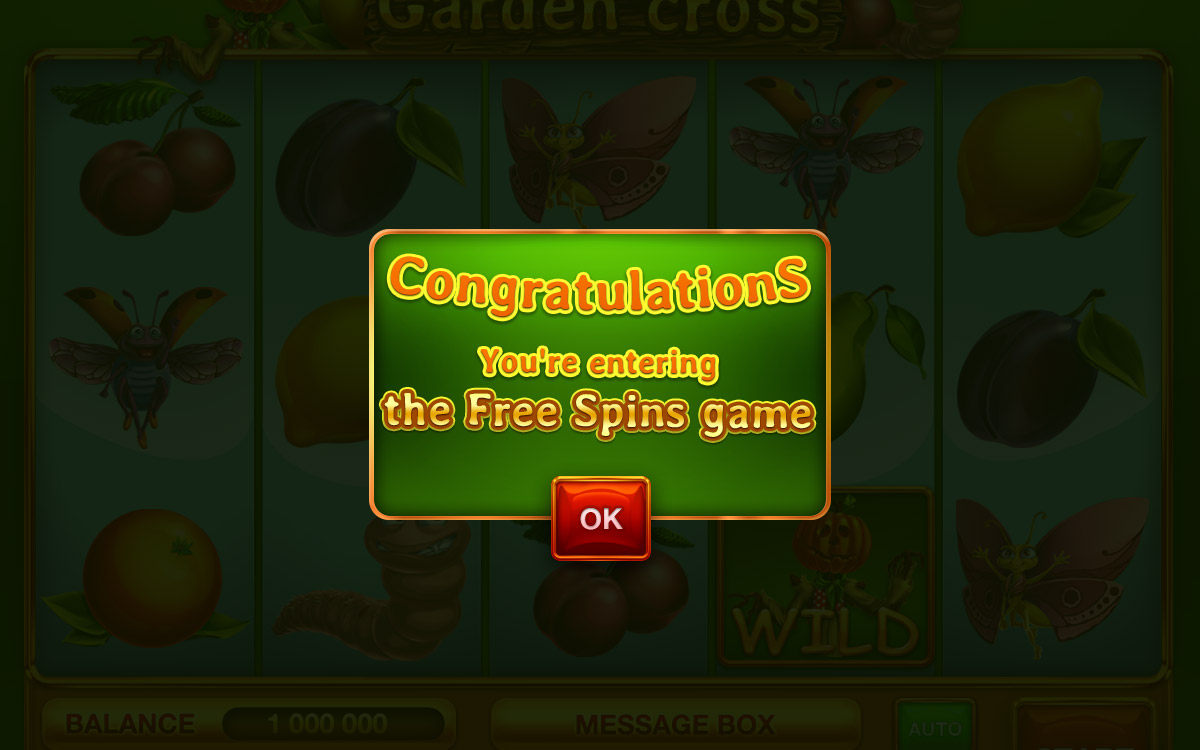 On the second window, congratulations on winning $ 5,000, on the same background.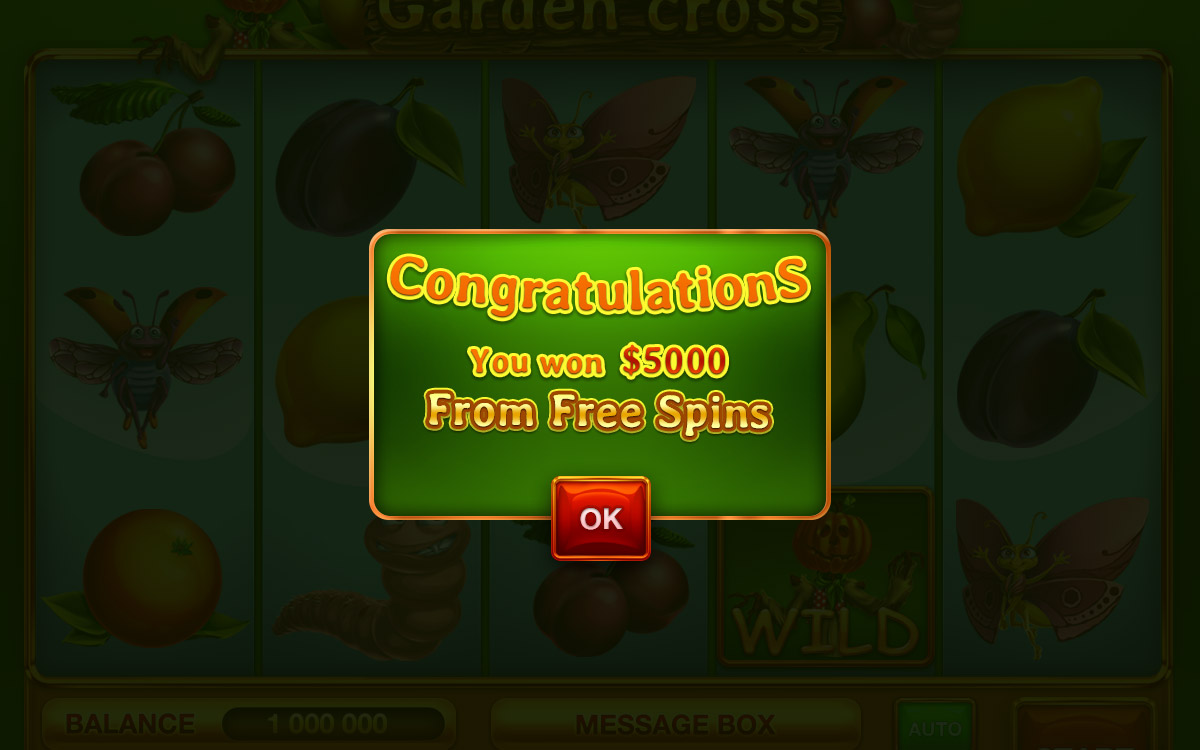 The congratulatory screens with the bonus game and winning in it are made in the same style.