Space Themed online slot game
A little dragon who loves to travel and seek adventure will never be bored. And you are with him. No adventure in the world is more interesting than a trip to the mysterious infinity of space. We invite you to visit an extraordinary fantastic planet, which friendly meets brave travelers, giving them generous prizes. And then it's time to give presents! It's dark outside, although there are a lot of stars in the sky. You can see millions of stars at night. It is quiet, calm, clean air. The planet and sky are red. Cosmic fabulous reality! Five reels in three rows are located in the starry sky, on which all thematic symbols are colorful and fabulous. To the right of the reels, you will meet a charming dragon. If he likes you, he will bring good luck; but if you get him angry … The reels control panel is presented as controlling a spaceship that will undoubtedly dominate the player in the vastness of the universe. Our little dragon is a little playful, so he decided to warm up all the inscriptions. The multi-colored, blazing control buttons are so understandable that even a beginner can cope with them. The reels are powered by the SPIN button. Max Bet – button to set the maximum possible bet in the machine. Auto – automatic spinning of reels without stops, Stop Auto – stopping them. If you are interested in our new product, you can purchase it at our store – https://slotopaint.com/product/dragon-on-mars/: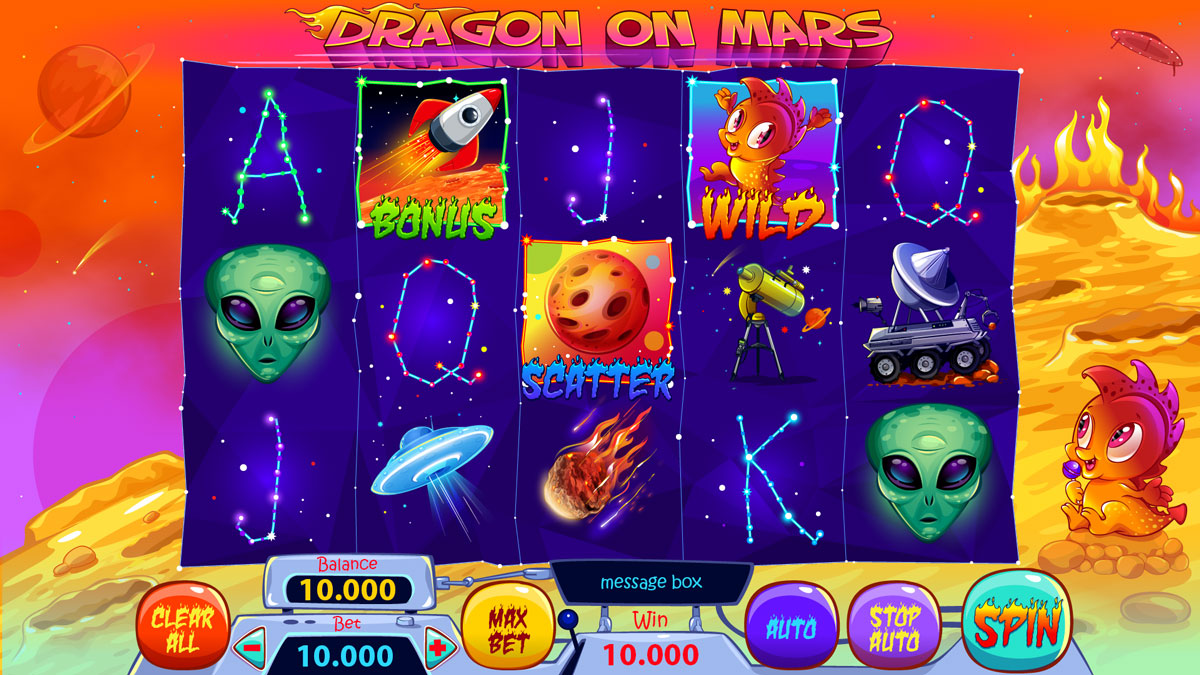 The main background is a fabulous cosmic landscape that gives the game a touch of surrealism. The surface of the moon, flooded with golden light, where in the corner, an intricate little dragon decided to set fire to a small area. Little fidget left the nest, where his mother lovingly courted him and went to seek luck. Somewhere in the distance he sees uncharted planets strewn with small stars. Colorfulness, brightness and suspense attracts to itself.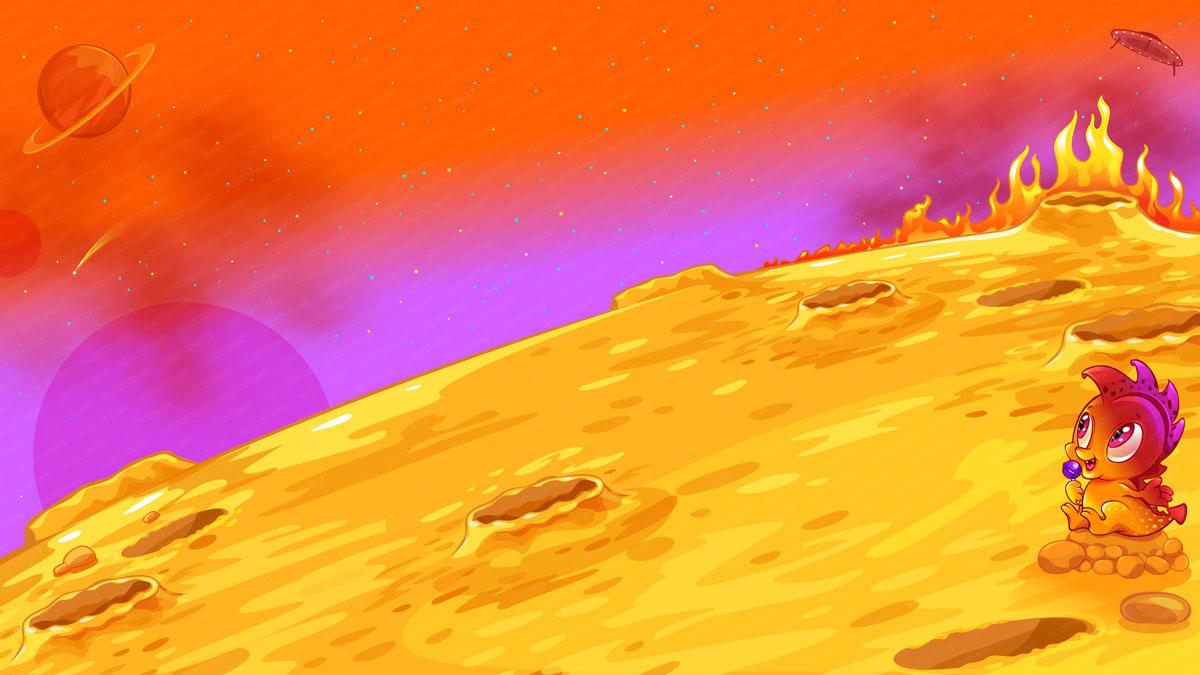 Bonus rocket, Scatter planet and Wild dragon will bring astronomical rewards to the player. You think that the planet is uninhabited, but Martians live here, they are unusual and funny. Green with big eyes. Martians are very hospitable. They move on their high-speed spacecrafts. Asteroids will not cause damage to anyone. Thanks to the telescope, we can observe the fantastic movements of the rover. This whole tale takes place under the new constellations, which look like denominations of card symbols.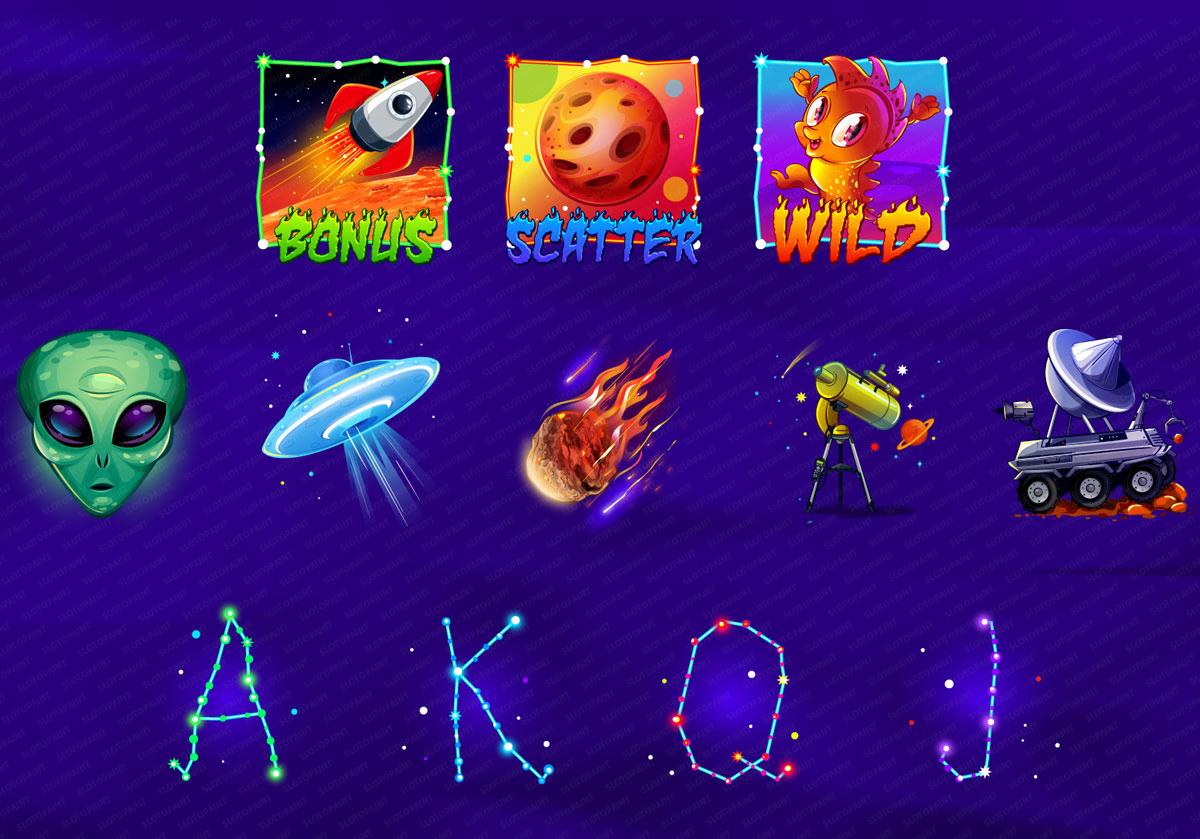 In the courageous task of mastering a new planet, magic cosmic forces will help us. And that they are – we had no doubt! 15 magical colorful balls, hide additional bonuses. Become a guide to the dragon and take him to the maximum win.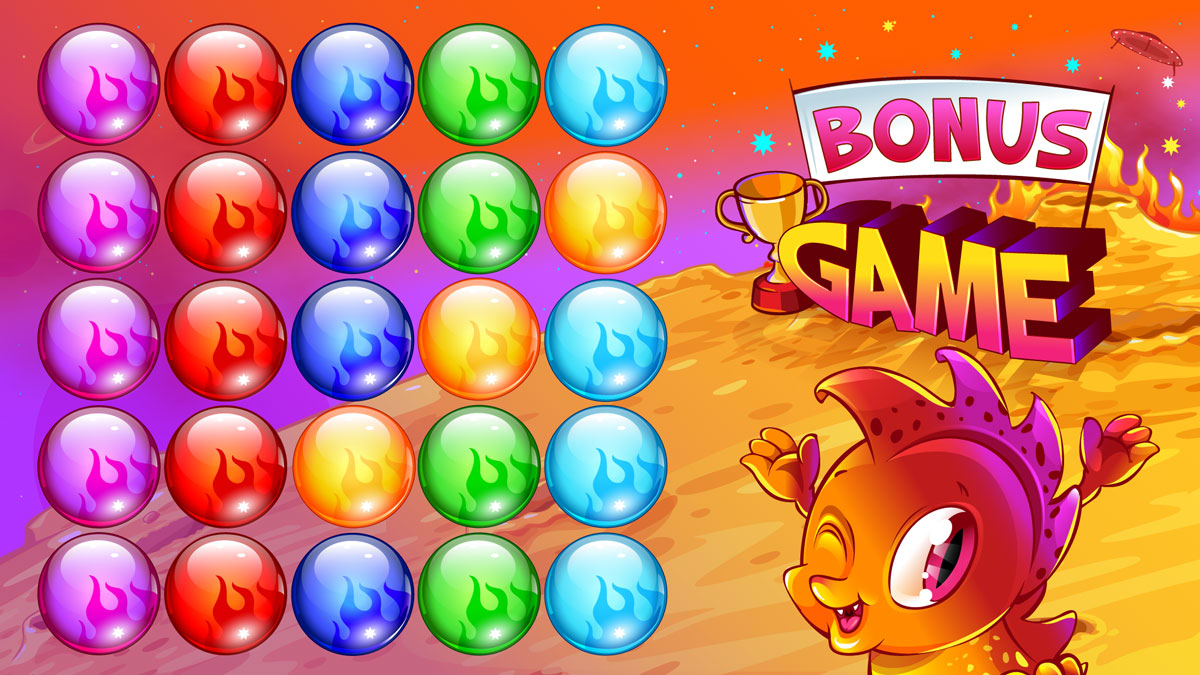 Collect colorful lights along the way. Behind each fireball is an additional winning bonus. Our charismatic dragon, will not fly away without a fantastic increase in bank balance.