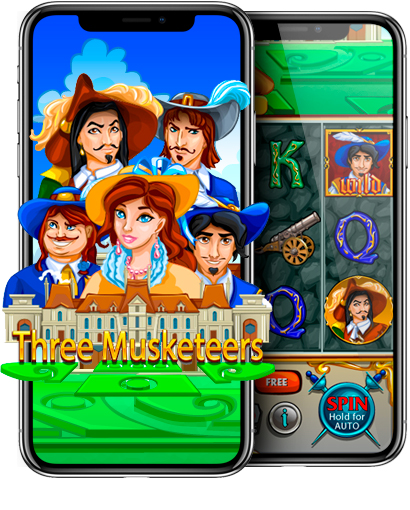 Musketeers Themed online slot game
We present you a new slot that will definitely grab your attention. A lot of adventures await you, from which you will "blow your mind".  Musketeers, as well as the first love of the most beautiful woman of d'Artagnan Constance Bonacieux. We see them on the loading screen, dressed in classic musketeer clothes. Hats – soft and wide-brimmed, with a high crown – were certainly decorated with lush ostrich feathers, which must be able to curl correctly. If you are interested in this product, you can purchase it at our store – https://slotopaint.com/product/three-musketeers/.
The game screen is conventionally divided into two parts: in the upper part we see a luxurious castle with an amazing lawn, while in the lower half of the screen we see reels directly with the gameplay. The inscription on a beautiful musketeer hat immediately catches the eye – Jackpot. With a fabulous win of one million. Below you can see the controls: the maximum bet, the number of lines in the slot and the spin button is displayed on the shield and two swords. In the second image, we can see the winning line and blue digits.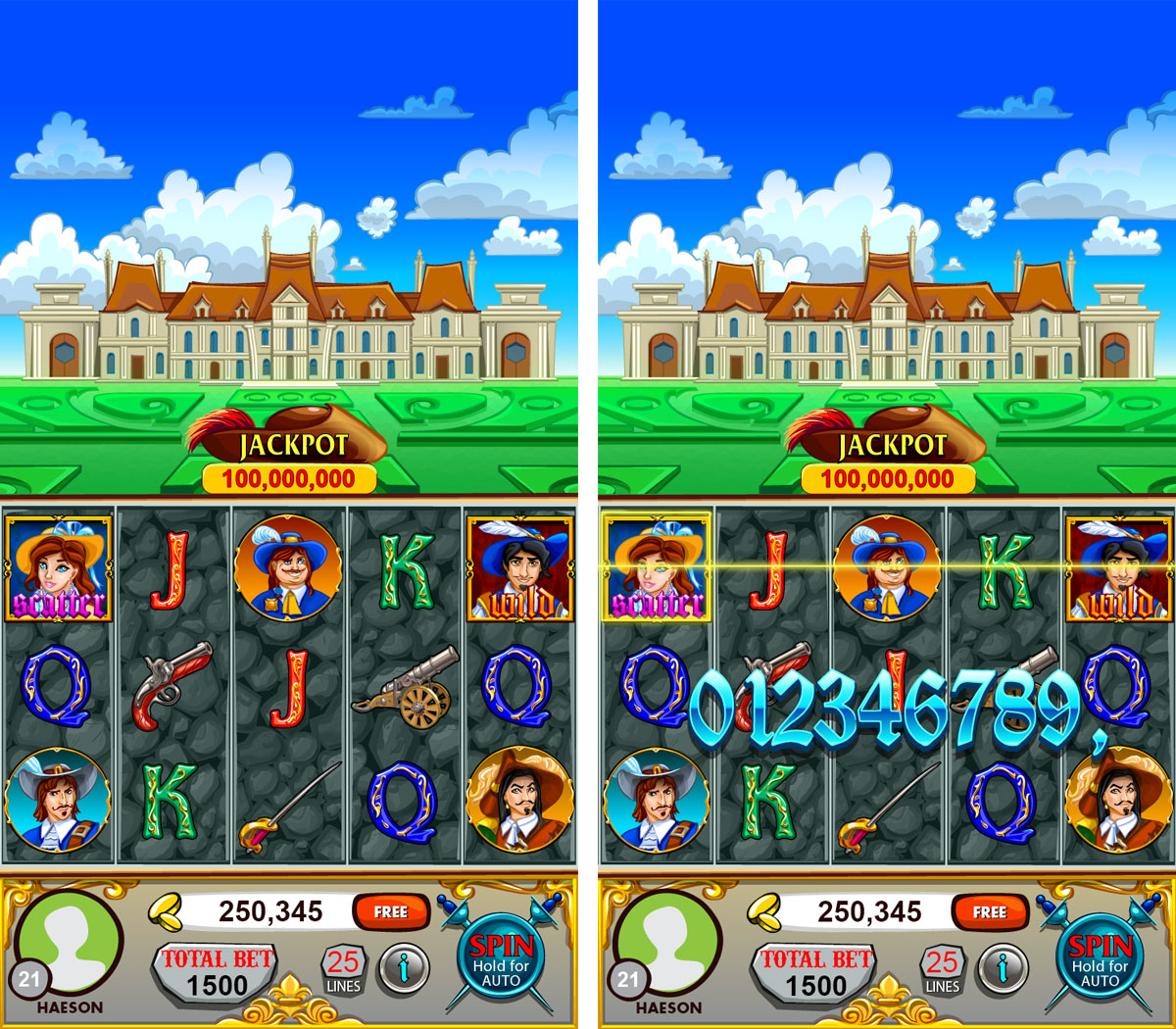 The slot game background, illustrated as a luxurious castle,  with a blue sky behind it. Below we see beautiful, neatly trimmed green labyrinths. Check where they lead. Give yourself a challenge and reach the end, to the treasures!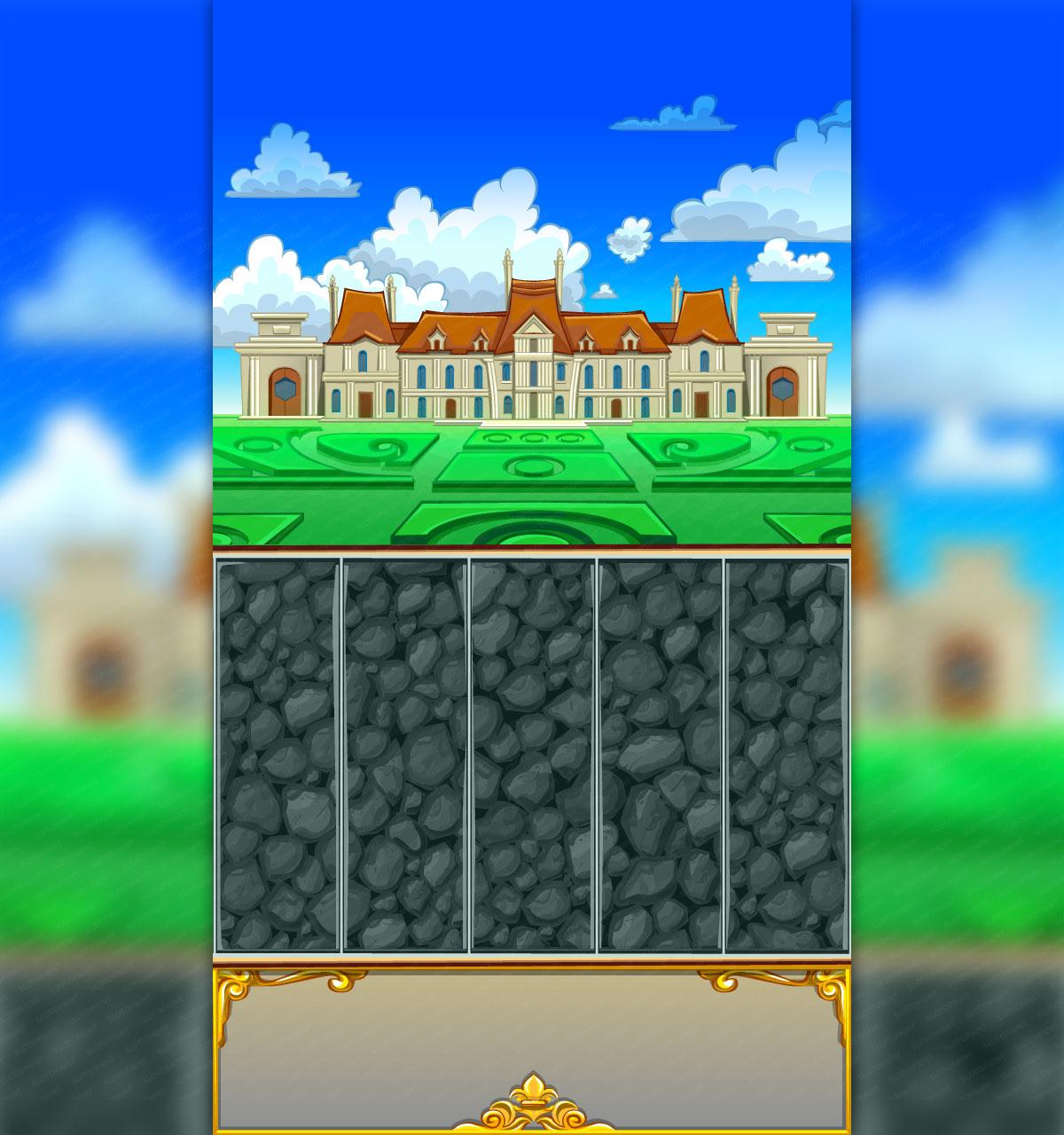 The Scatter symbol is a lovely creature with blue eyes and a charming smile. This is Lady Constance Bonacieux. He knows how to show himself and pleasantly surprises with his impeccable manners.
Wild symbol is the daredevil and merry fellow D'Artagnan. He is also a romantic who is always ready for exploits. Middle symbols is a group of loyal friends: Athos, Porthos and Aramis. Depicted in hats, the best in the palace, cooler only in d'Artagnan. Their ammunition is also presented: a revolver, a cannon and a sword. Be careful, they are excellent weapons. Low symbols are multicolored large letters with a unique font.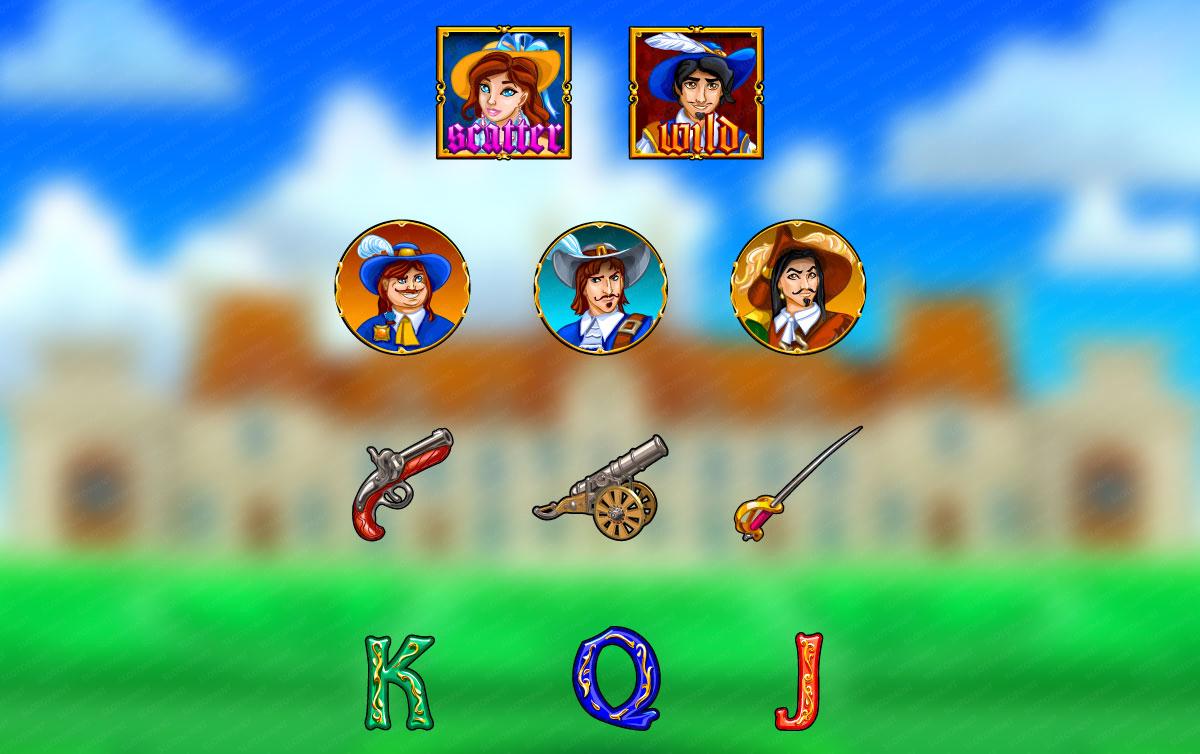 Below we will take a closer look at the treasures that very soon may be yours. The first picture shows a bright green inscription 'Five of a Kind'. The second illustration shows a yellow inscription "Big win" of five thousand dollars. On the third picture, lo and behold – this is the Jackpot. You are a real lucky one! On the fourth image there is an inscription, in the same style as in the previous picture, but only with an incredibly huge winnings Jackpot fifty thousand!!!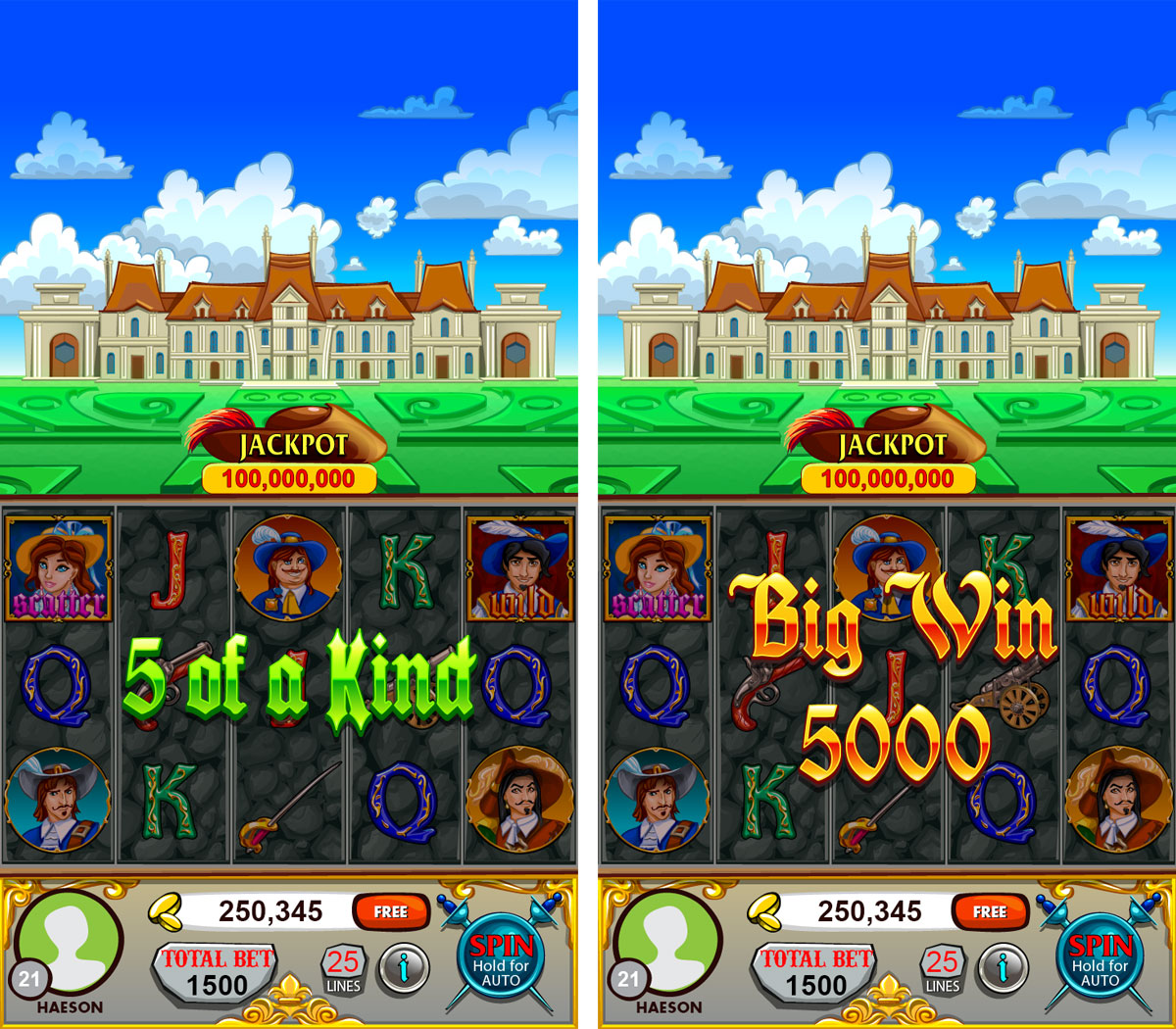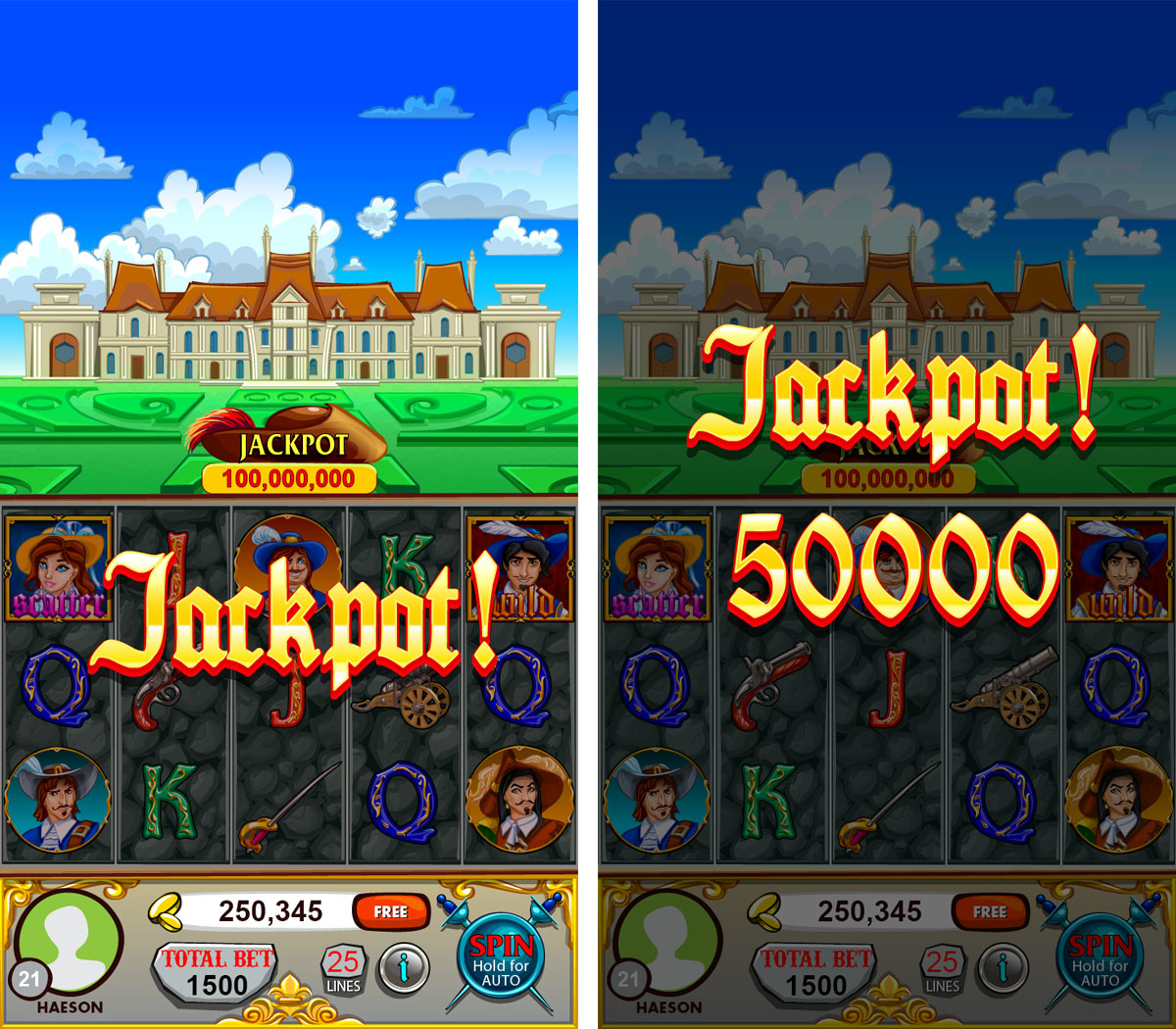 Slot info screen: on a gray stone background it illuminates us with the next three Scatter symbols – this is a bonus game, five Wild symbols – this is a jackpot win. Press the spin button and you will become the owner of all this wealth. I wish you luck, confidence and more victories!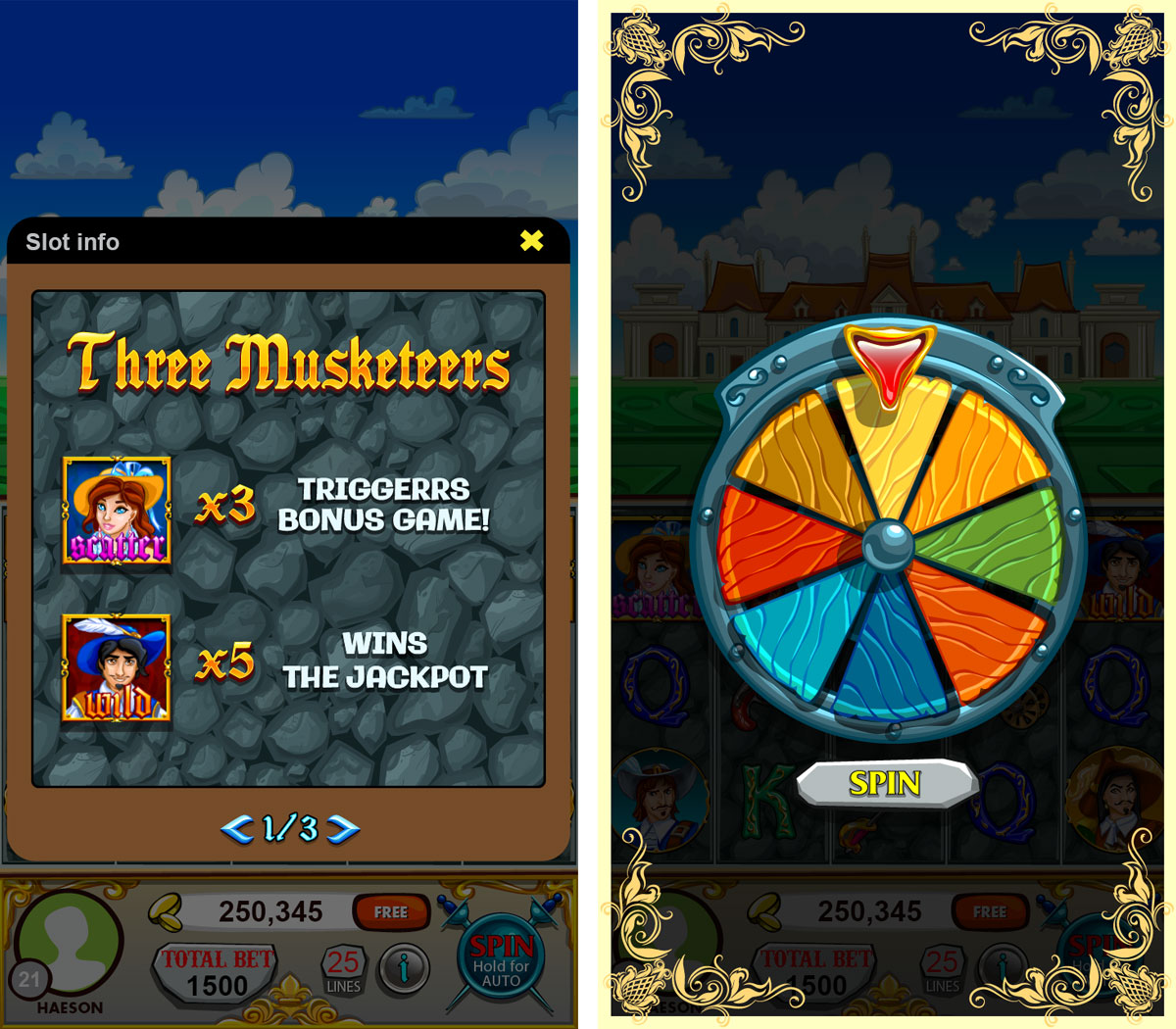 At the next picture, we see a Wheel of Fortunel with different colors, calling to press the spin button. Here we can win an additional five thousand coins. Below is a picture with this and congratulates.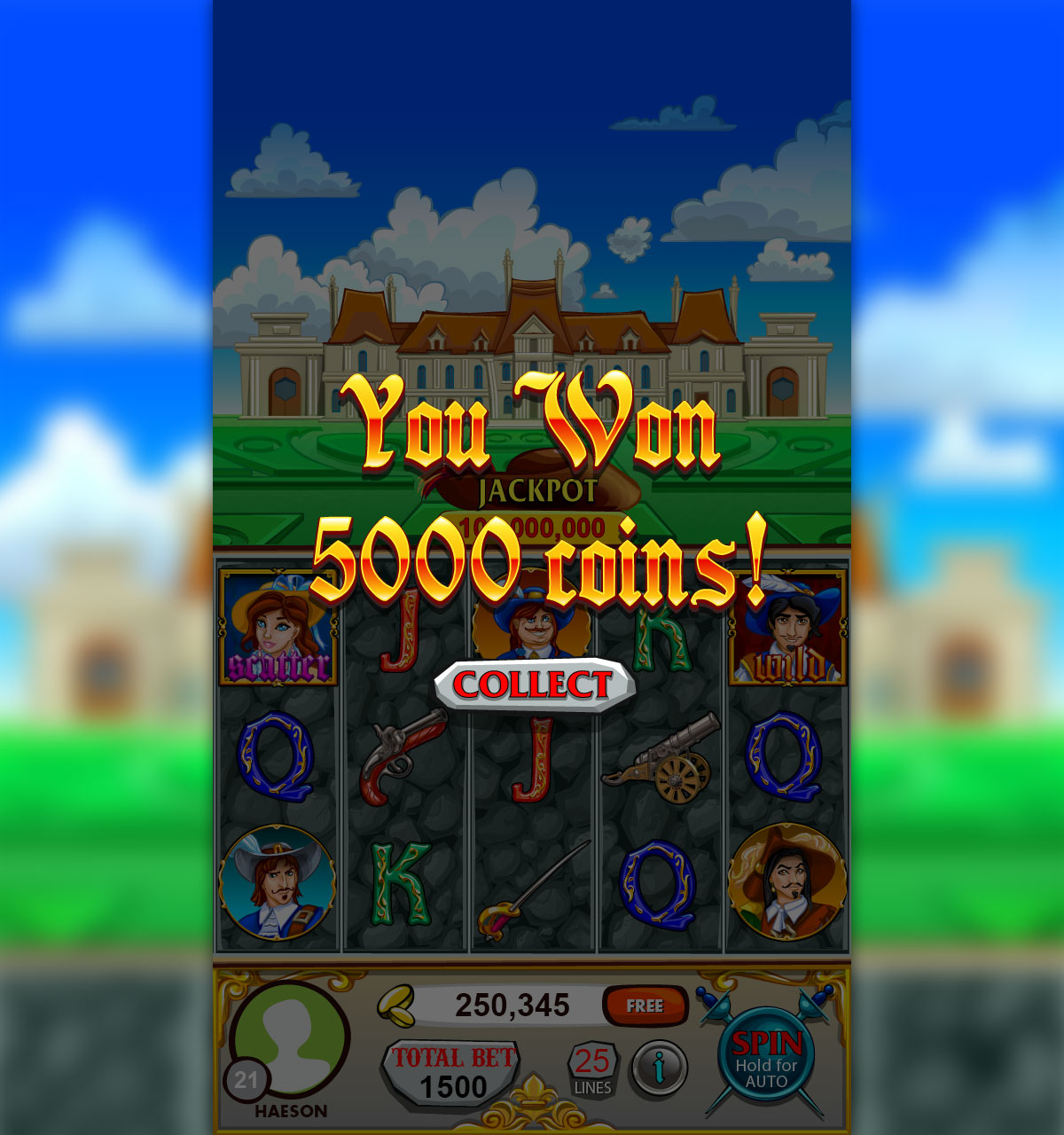 Paytable on a gray stone wall introduces us to the following: Wild symbol replaces any symbol except Scatter and a bonus. The next sign reads: A minimum of three Scatter symbols will trigger the free spins round. Even Constance would have reacted with joyful screams. Friends midshipmen give us: 5-1000, 4-800, 3-20, in one line. Indestructible weapons and multi-colored numbers add the same winnings to us.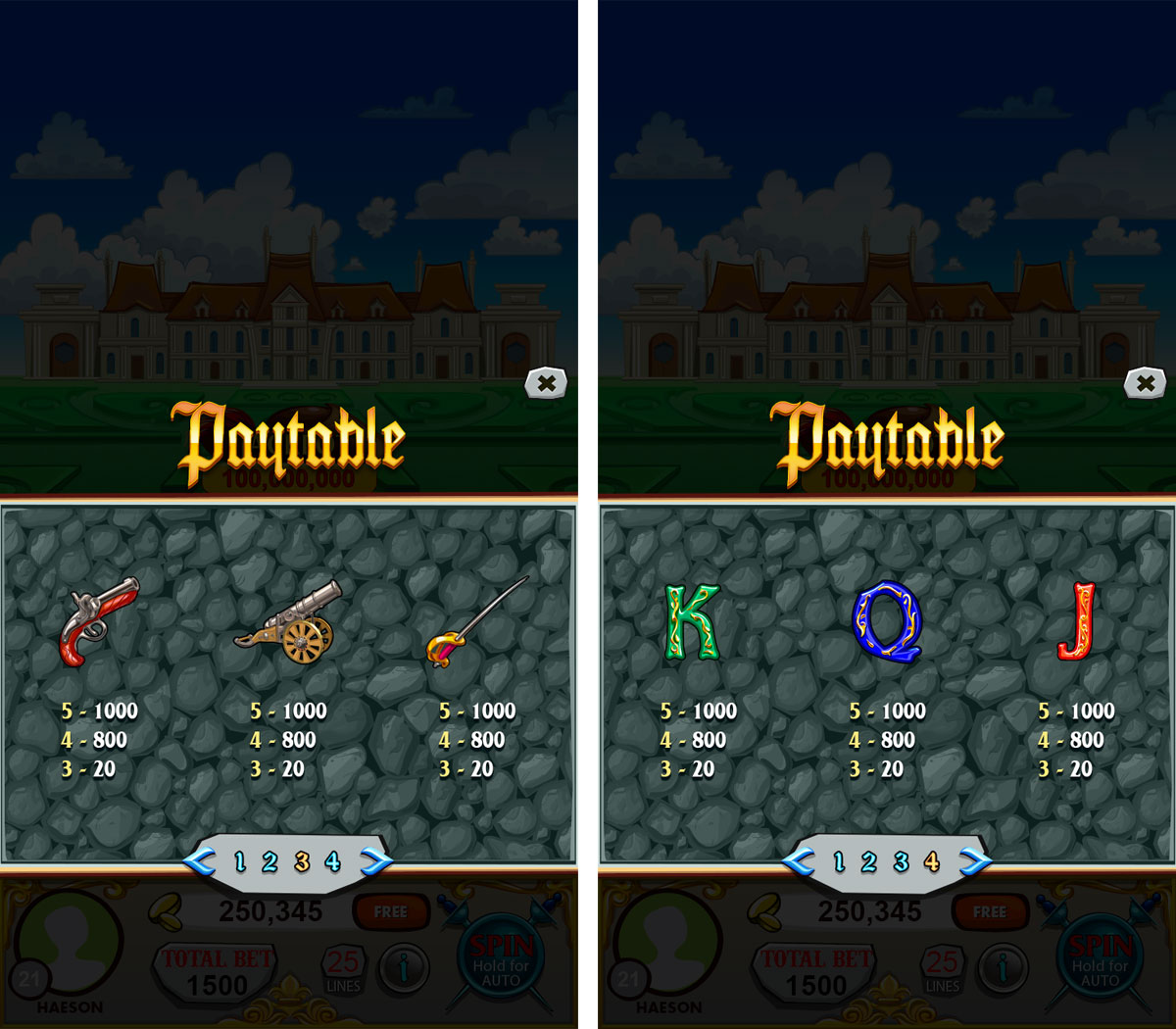 The tables with congratulations, on a black pompous background with golden monograms, read the following: Free Spins, winnings of five thousand from Free Spins, transition to the Bonus game, winnings of five thousand from the Bonus game. All pay tables look very rich and elegant.