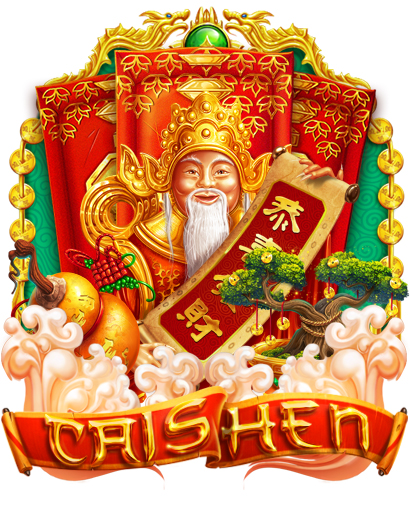 Chinese themed online slot game
The culture of China is one of the most ancient and original in the world. China is home to one of the most ancient civilizations in the world, and perhaps the only one where the physical type of the population has not changed for 5 millennia. In ancient Chinese philosophy, the religious-mythological worldview was dominant. The Chinese believed that everything in the world depends on the predestination of Heaven. The "Will of Heaven" can be learned through omens and divination.. If you are interested in this product, you can purchase it at our store – https://slotopaint.com/product/caishen/.
"Caishen" is not an ordinary slot game, it is fraught with a sea of power, unknown miracles, abundance and prosperity. The patron of wealth is the statuette of the deity Cai Shen. A majestic old man in a red robe sitting on a throne shows us his writings about what fate has in store for us, what awaits us in the future and what events will help us enter the cycle of harmony with nature and ourselves. His powerful power of sight gives us confidence in achieving all goals, gaining good luck for the whole life path. Magical hieroglyphs on papyrus, as if by magic, will give out to our mind and illuminate the path. Our hand will not falter, all we do is right, our actions are according to our will with the divine blessing of Cai-Shen.
The background of the slot is filled with various elements of the animal world. In the very center, a three-legged toad with a coin in its mouth is depicted, it sits on a stump at the foot of a money tree and puts gold acquisitions into itself in a magic barrel, and prophesies us luck and abundance. Each coin of the wealth tree attracts auspicious energy and enhances cash flows. A flying voluminous fish with hieroglyphs of harmony on the tail symbolizes success in financial affairs, activates the career zone. The "turtle-dragon" on a pile of gold guards our wealth, driving away all failures and hardships. A golden tray with heavenly Chinese lanterns will fill us with the element of fire, and all obstacles will move away, burn down, turn into ashes. All these talismans are enhanced by the element of air, filling them with the depth of the blue sky on the canvas.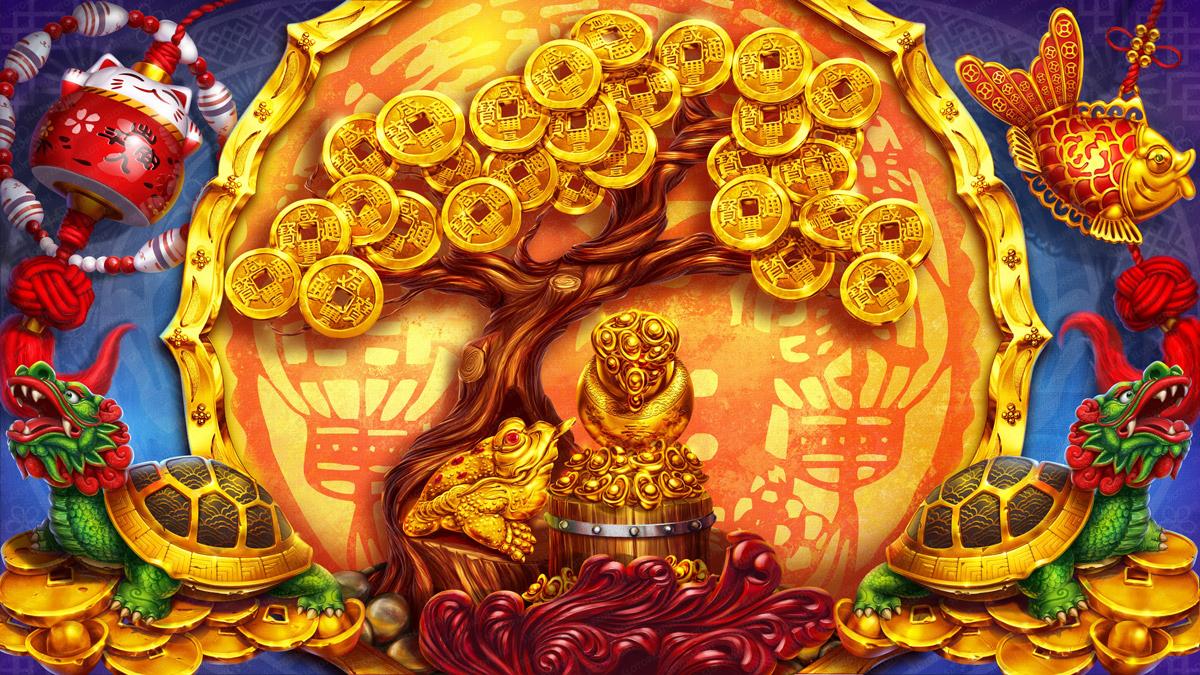 All our magical symbols are filled with the energy of money. Red envelopes of good luck BONUS symbols surrounded by golden dragons on a green canvas protect our savings and wealth. The deity of wealth Cai-Shen (WILD symbol) will increase our cash flow, his golden crown studded with rubies will turn the vector of success in our favor. Expanding symbol WILD – where the old man sits on a golden throne, showing us a scroll of winning lines, will make us rich with slot winnings. All expensive symbols will become our talisman in the game, giving us strength and success.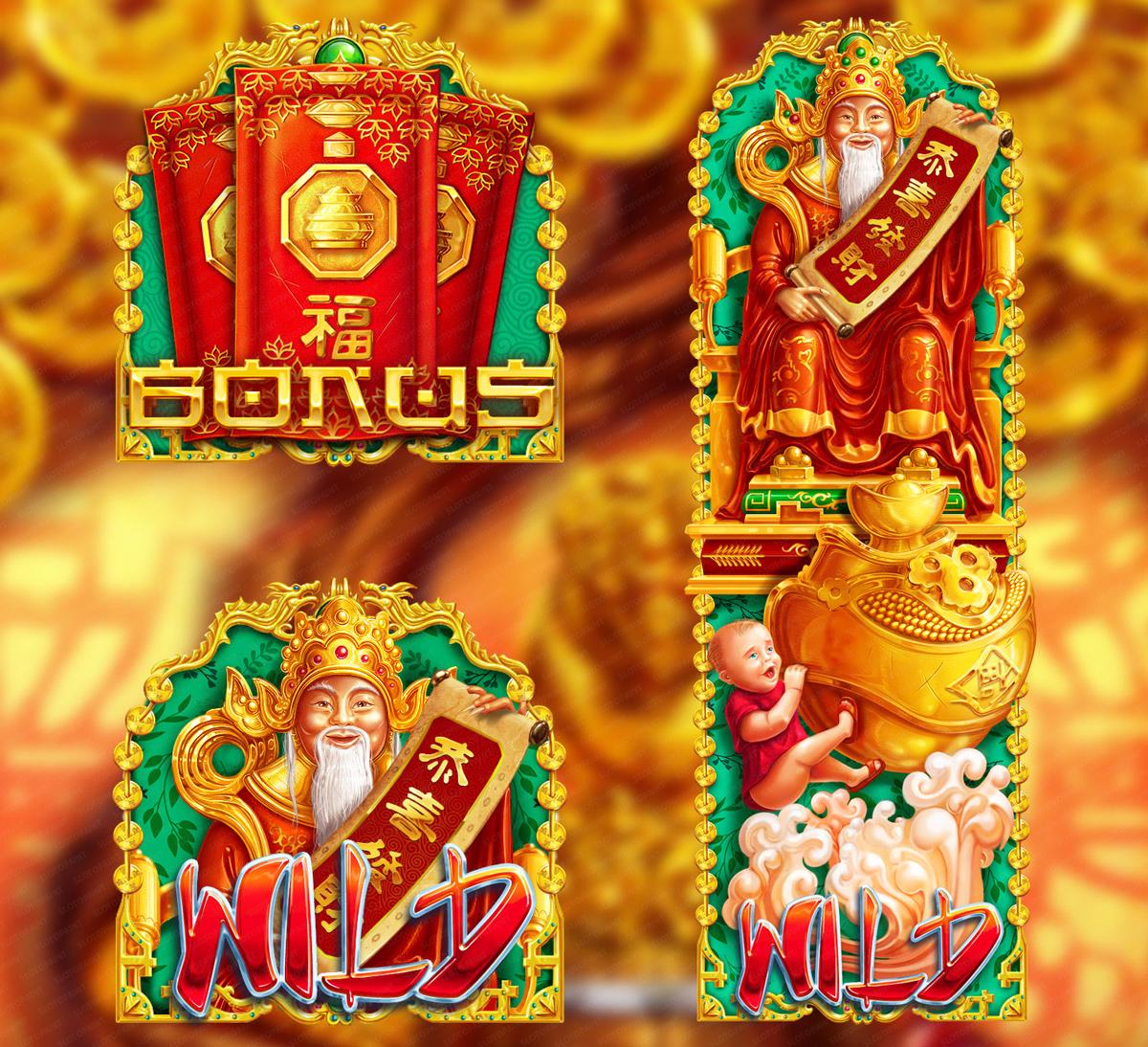 The next rows of symbols are the middle symbols:
The golden Tibetan bell is given to people as a symbol of protection from evil and all evil spirits, protecting us from a black look and evil tongues, protecting us from gloomy thoughts. Its ringing will remove all astral entities that impede our spiritual growth. A bowl of wealth with emeralds is a symbol of well-being and greatness, it strengthens our material wealth and increases income, it is the most effective talisman in strengthening and expanding the flow of money. Connoisseurs of Chinese mythology recommend that you always carry it in your right pocket without showing it to others, this will enhance its effect for the owner. A miniature bonsai tree with dense greenery, decorated with gold coins and in a golden pot, serves as a symbol of love, eternity and connection with the natural world. It symbolizes a person's desire for eternal happiness, family idyll and carefree old age. The red money bag will become a talisman of wealth, bring new profits to the owner and increase its amount. A copper turtle with jewels on its shell will become a symbol of heavenly support and protection, it is advisable to keep this talisman in a single copy at home by placing the figurine in a vessel with water, the element of water will cleanse our streams of good luck and financial well-being. Pumpkin gourd or Hu-lu, is a strong talisman of health, pumpkins also harmonize relations between children and adults and spouses who have cooled off towards each other.
The Low symbols are made in the form of Latin letters resembling Chinese characters, in a gold frame and in different colors. All kinds of symbols perfectly and harmoniously fit into this slot, luring us into the world of Chinese culture and mythology.

The bonus game of the slot gives you the opportunity to multiply your winnings. The player is given three attempts to choose the red envelopes that we like. With a successful click, a red money bag appears on the reels screen, which multiplies the winnings by a certain amount, and if we didn't guess, a handful of stones will fall on the screen, without winning.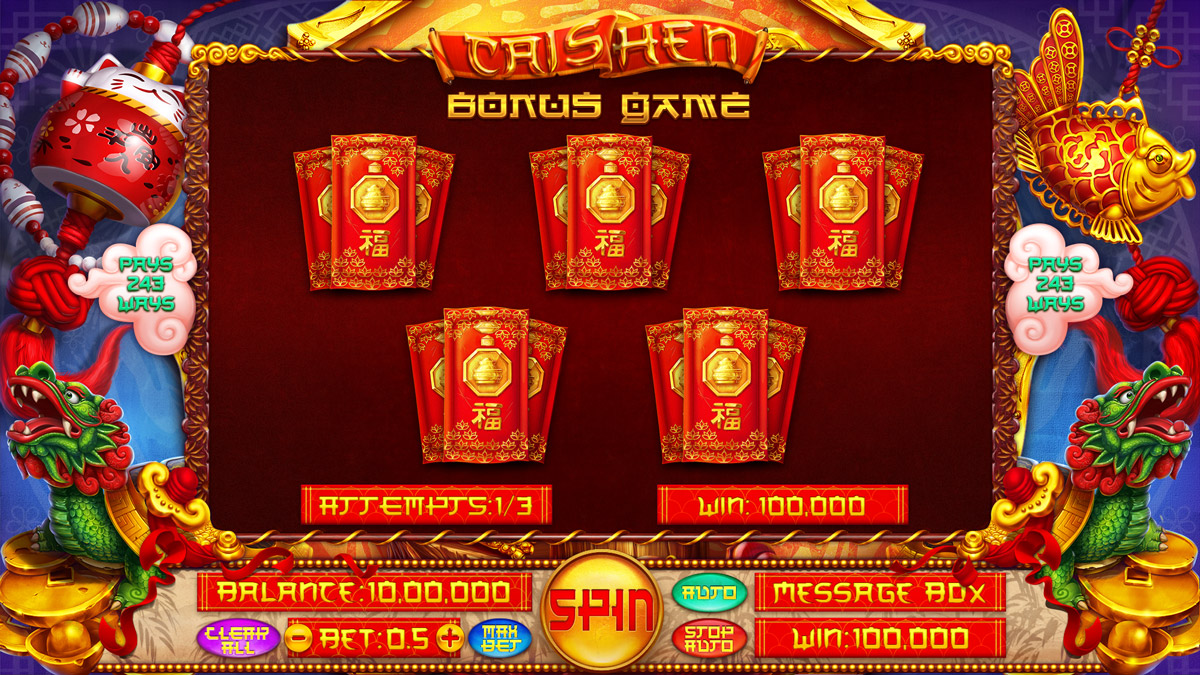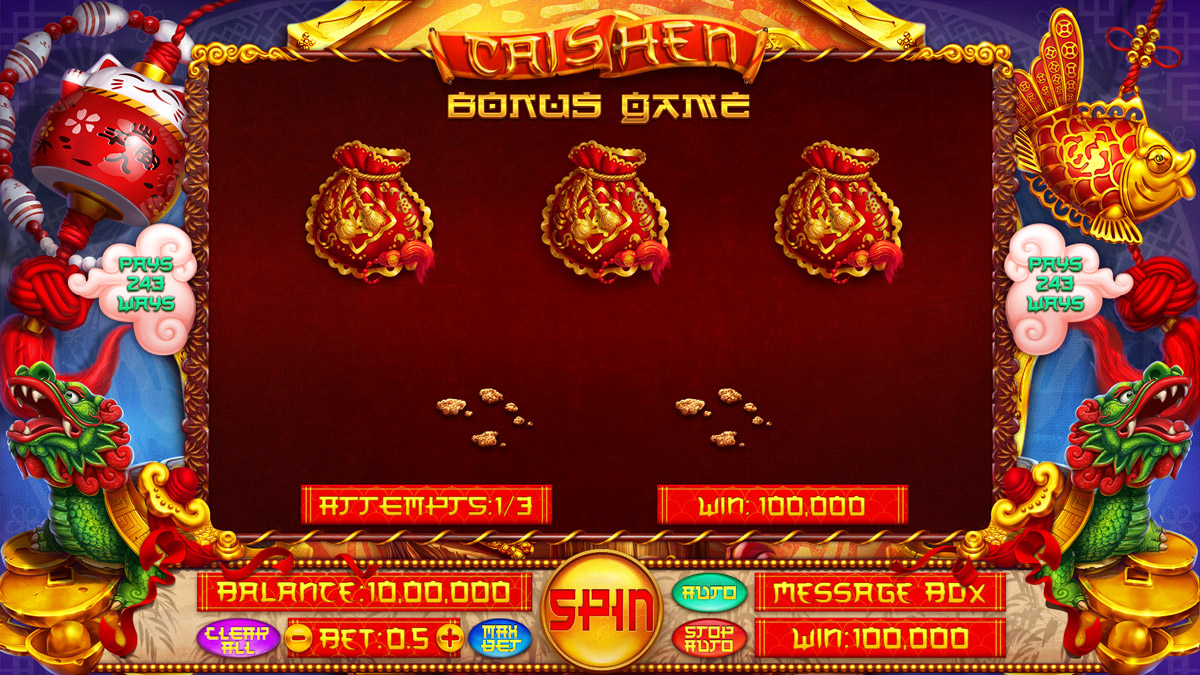 The Chinese theme has always drawn humanity into its depths, because the knowledge that it hides attracts us like little children, in order to learn what we do not yet know, unravel the secrets of ancient scriptures, learn to direct all the forces of the elements for our own benefit, and with the help of various talismans and amulets to make your life brighter, more harmonious and abundant.